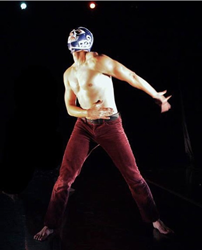 "As an artist, it is more important to create a platform that moves us past alliances, and begins a dialogue that informs, questions, and in some cases even satires our divisive issues." -Rodney Ewing
INCLINE VILLAGE, Nev. (PRWEB) May 19, 2021
There are a few spots still available to start in Summer 2021! Please get in touch immediately should you have an interest in attending IN PERSON this summer.
Priority deadline for Winter 2022 residency is October 15, 2021.
Apply here.
August 13-22, 2021 will mark the next in-person summer session of the low-residency MFA in Interdisciplinary Arts program at Sierra Nevada University. We are thrilled to invite two new faculty members to teach within our program.
Rodney Ewing will be joining us this summer to teach a Focused Studio Practice course. Rodney's drawings, installations, and mixed media works focus on his need to intersect body and place, memory and fact to re-examine human histories, cultural conditions, and events. With his work he is pursuing a narrative that requires us to be present and intimate. Rodney states, "As an artist, it is more important to create a platform that moves us past alliances, and begins a dialogue that informs, questions, and in some cases even satires our divisive issues. With my work I am creating an intersection where body and place, memory and fact, are merged to reexamine human interactions and cultural conditions to create a narrative that requires us to be present and profound."
Irvin Manuel Gonzalez will be teaching a second Focused Studio Practice course. Gonzalez's work considers how immigrant, queer, and working-class quebradita dancers construct mexicanidades to navigate trans/national politics. He examines how affective affiliations between quebradores/as/xs, on both sides of the U.S.-Mexico border, are embodied to forge belonging as strategy. In doing so, Gonzalez theorizes the body as an archive of movement that brown dancers use to resist xenophobia/homophobia and the instability of neoliberal economies.
All SNU MFA-IA Summer 2021 Residency Faculty
Mariah Dekkenga / Roman de Salvo / Rodney Ewing / Amy Khoshbin / Irvin Manuel Gonzalez / Austin Pratt / Julie Weitz
We are excited to invite prospective students to join our growing community of artists and thinkers. With rolling admissions, students will complete their MFA in five consecutive residencies regardless of the semester in which they enter.
The program consists of five intensive 10-day, on-campus residencies during summer and winter sessions over the course of 2.5 years. During the fall and spring semesters, students work in their home studios and continue relationships with faculty mentors and fellow colleagues remotely through online seminars and other points of contact.
Current students and faculty participate from a variety of locales, and across media and discourses. A vital and compelling cross-disciplinary community is forming and growing. Faculty for the program continues to include a rotating list of prestigious Visiting Artists, made up of working artists and teachers from across the country.
Previous Visiting Faculty
Walter Kitundu / Macon Reed / Ashley Stull Meyers / Ayanah Moor / Gabie Strong / Joseph DeLappe / Kara Q. Smith
About Sierra Nevada University's MFA-IA
Sierra Nevada University is a small, liberal arts college, located three blocks from Lake Tahoe, within a national forest, on an easily accessible campus in Incline Village, NV. The low-residency MFA in Interdisciplinary Arts is a locus for creative problem solving, fostered by creative thinking with an emphasis on community. The experience and exploration of embodied place is a central element of this distinctive program, encouraging students' multi-dimensional relationship with their environment both in the Tahoe Basin and within their own communities.