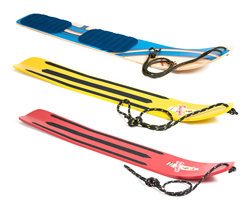 We're stoked to bring the iconic Snurfer back to the market so kids of all ages can have a blast in their backyards this winter.
Manchester Center, Vermont (PRWEB) November 03, 2014
After an absence of almost three decades, the Snurfer (snurferboards.com) will be returning to backyards and backcountry this November. The original Snow Surfer; 70's icon and precursor to the contemporary snowboard, is back. Now rebranded and redesigned, the project is spearheaded by Balance Designs Inc., makers of the VewDo Balance Boards. (vewdo.com)
The original Snurfer debuted in 1965, created by the now 83-year-old Sherman Poppen, as a relaxed alternative to skiing for his two young daughters. Both the design and concept were beautifully simple: a wooden surfboard with a rope tied to the nose for steering, designed to literally surf on snow. From the start the idea was revolutionary, going on to sell over one million units, and eventually spawning an entire cultural phenomenon. Much of the Snurfers' appeal lies in its versatility as a product, perfect for anyone with a love of snow, skill, and speed; from kids and teens looking for after-hour kicks, to Snurfer veterans keen to relive the glory days.
The Snurfer has been brought back into the limelight by the one man with the credentials for such a move. Brew Moscarello is the founder and president of Balance Designs Inc., a company specializing in both balance technology and the rebranding of iconic products. In 1991, with the global emergence of action sports, Moscarello pioneered the introduction of balance board training, with the now iconic VewDo Balance board. Born out of the snowboard industry, the benefits of balance board riding have now been recognized as a vital component in many sports, and the VewDo brand has been recognized as the world leader in high-performance balance trainers for the past twenty years.
Fast forward and Moscarello has planned the same treatment for the Snurfer: "VewDo has its roots in snowboarding, and with balance being a key part of riding a Snurfer, we thought who better than us to bring this icon back to market. We're also thrilled to be providing a high quality, made-in-the-USA product, that doesn't require batteries, and which will inspire adventure and healthy lifestyle."
As a mark of the Snurfer's versatility, the initial product line will include not one model, but two: The Classic, an authentic replica of the original, available in Rocket Red or Sun Burst Yellow; and the Nomad, a contemporary version suitable for a greater variety of snow conditions and skill levels. In addition, t-shirts and other accessories will be available. Products will be on sale by early November at snurferboards.com, and through select sporting outlets.
For more information, please contact Balance Designs Inc. at 802-362-2893 or info(at)snurferboards(dot)com.