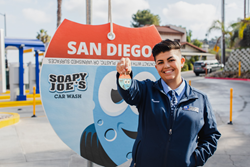 "We thought it would be fun to create the world's largest air freshener as a way to not only symbolize our status as an eco-friendly member of the community, but to also pay homage to our beloved Soapy-themed fresheners that help keep our customer's cars smelling incredible."
SAN DIEGO (PRWEB) January 11, 2019
Soapy Joe's Car Wash, a San Diego-based eco-friendly car wash company, was recently awarded the title of "Largest Car Air Freshener" by Guinness World Records. The record-breaking car freshener measures in at 3 feet 10 inches tall, 3 feet 8 inches wide, and 1.6 inches thick. It was crafted using wood, pulp and starch—the same proprietary bio-degradable materials as the company's smaller, signature air fresheners.
Soapy Joe's developed the world's largest air freshener last year as a way to celebrate its 20-year commitment to environmental sustainability initiatives, including water efficiency and conservation. As a pioneer in eco-friendly car wash technology, the family-owned company uses a water reclamation system that not only saves water, but filters out harmful pollutants.
"Soapy Joe's services hundreds of thousands of customers per year, and along with our great washes and friendly customer service, members rave about our air fresheners," said Anthony Rodriguez, marketing communications manager at Soapy Joe's. "We thought it would be fun to create the world's largest air freshener as a way to not only symbolize our status as an eco-friendly member of the community, but to also pay homage to our beloved Soapy-themed fresheners that help keep our customer's cars smelling incredible."
The world's largest air freshener, which boasts a signature citrus scent, took weeks to assemble and required an entire team dedicated to the build. It is currently on display at Soapy Joe's headquarters in Santee, CA.
About Soapy Joe's Car Wash
Soapy Joe's was founded in 1996, and is a family owned and operated business with locations throughout Sand Diego County. Soapy Joe's prides itself in its commitment to the environment, using the most up-to-date water reclamation system in the industry. Soapy Joe's is dedicated to providing quality service, customer satisfaction, and eco-friendly technology, all at a great value to the customer. For more information about Soapy Joe's locations, services, and current promotions, please visit https://soapyjoescarwash.com.