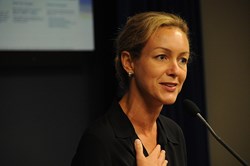 The world is going local. A quarterly analysis of corporate social buzz may be interesting for the marketing team, but its usefulness to anyone else in the C-suite is practically nonexistent.
(PRWEB) December 03, 2013
It's been quite a year for social media. Data got bigger. Budgets got smaller. Twitter went IPO. Snapchat went IP-no. And more organizations than ever turned to social media to learn from, engage, inform and influence their customers. So what's next? The experts at newBrandAnalytics predicted the top three social media trends that will impact businesses in 2014.
RIP, Radian6
Social media is lifeblood for industries like retail and hospitality, where the average online mention is read by anywhere from 250 to 25,000 viewers. As data analysis becomes increasingly sophisticated, restaurant, hotel and store executives are realizing that they need more than monitoring from their social media – and that's something a platform like Radian6 simply can't deliver. In 2014, these groups' generic listening tools will be replaced by tools that can provide the store-level customer relationship management (CRM) it takes to win and keep loyal customers.
"The world is going local. A quarterly analysis of corporate social buzz may be interesting for the marketing team, but its usefulness to anyone else in the C-suite is practically nonexistent," said Kristin Muhlner, CEO of newBrandAnalytics. "The operations officer, the customer experience lead, even the legal department… they can't afford to just cross their fingers and hope the business is good enough. They have to take action, and they need specific, store-level data to do it."
Investors' New Crystal Ball
Any business that still thinks it can ignore online feedback will have to think again in 2014. Private equity firms have started turning to social intelligence to get a bird's eye view of which brands are outperforming competitors – so even if an organization isn't watching its own social sentiment, odds are that next year, someone else will be.
"Evaluating company performance has always been a part of due diligence, but this type of insight goes far deeper than what you can see on a balance sheet alone," said Muhlner. "Investment firms are always looking for ways to pick out prospects with the highest potential and lowest risk. More and more, social data is providing that insight."
Demand-Based Direct Marketing
As more people share personal information online (72% of online adults now use social networking sites, according to Pew Research) business are looking for new ways to target motivated consumers. That type of hyper-focused marketing used to be cost prohibitive, but the social-local-mobile revolution—a.k.a. SoLoMo—has brought it within reach for businesses that know how to use their data.
Muhlner explains: "The latest in direct marketing is combining social media conversations with geo-fencing data to find people in your area ready to purchase goods and services. For example, if Mary goes to her local shoe store and they don't have the shoes she wants in her size, she might tweet something like, 'Well, there goes my run today. Wish @ShoeMart had size 7s!' Now, a nearby competitor can tweet back: 'Hey @Mary! We've got your size waiting down the street. Show them this tweet and you'll get 10% off!' That store just landed itself a new customer. We call that demand tagging."
By providing a more intelligent shopping experience, retailers can foster deeper levels of consumer affinity and loyalty. And as mobile usage continues to spread, retailers that embrace practices like demand tagging in the coming year will enjoy a substantial competitive advantage.
The bottom line: More specific, personal and informed social media engagement will move smart enterprises one step closer to world domination in 2014.
Are they ready? "The data is there," said Muhlner. "All they need to do is use it."
About newBrandAnalytics (nBA)
newBrandAnalytics empowers restaurateurs, hoteliers and retailers to analyze their customers' instant thoughts written on social media to improve the overall guest experience. Through newBrandAnalytics' easy-to-use platform, leaders in every department can understand and leverage actionable data to create memorable experiences at all their stores. Current customers include Dick's Sporting Goods, Five Guys, Crunch Fitness, AMF's BowlMor Lanes, Bob's Discount Furniture, Hyatt Hotels, and many more. Please visit http://www.newbrandanalytics.com for more info, or follow us at @nBrandAnalytics.