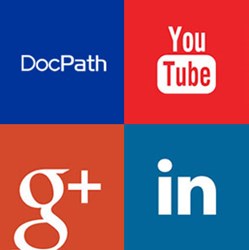 Showing rather than telling" is DocPath´s new philosophy, as video tutorials and commercial videos are being published on DocPath´s YouTube page monthly.
Suwanee, GA (PRWEB) November 26, 2013
-The document management software company is including professional social platforms, such as LinkedIn and Google+, in its marketing strategy, to enhance its market presence and boost business interactions.
-"Showing rather than telling" is DocPath´s new philosophy, as video tutorials and commercial videos are being published on DocPath´s YouTube page monthly.
DocPath, a business document management software company, maintains fluid and frequent contact with its Clients and Partners by actively participating in social networks. Currently, DocPath is present on YouTube, LinkedIn and Google+, which enables the company to take full advantage of the Internet´s potential of direct communication through social media.
DocPath´s online marketing strategy is in line with its global positioning strategy, which aims to boost the company´s corporate image by maximizing its visibility and presence on the global market.
Some years ago, the company adopted LinkedIn as its first social media, to open up a new, bidireccional communication channel with its Clients and Partners. Recently, the company has also turned to Google+, because of its spectacular growth and popularity rate, its business-to-business (B2B) profile and additional features, such as "Hangouts", which allow for even higher interactivity levels and a broader public.
DocPath is a B2B company, as its technological solutions are geared towards businesses of any size and sector. For this reason, the company has opted for the currently most popular professional social networking sites, such as LinkedIn, YouTube and Google+, as their business focus is consistent with the company´s objectives regarding visibility and interconnection. Through these platforms, DocPath boosts direct contact with leading personalities of its sector, both on a national as on a global scale.
Apart from social media, DocPath also communicates through the its Newsletter, sent to both Clients and Partners. Each newsletter provides relevant information about the company´s technological innovations or interesting news from the ICT sector.
The Future is Audiovisual
According to DocPath, the future of a company´s presence on the Internet cannot do without video content. For this reason, the company has replaced paper-based documentation of its document management software by video tutorials, the so-called "How To´s". These video tutorials guide users through the steps needed to successfully use DocPath´s latest products, which are based on the company´s new technology called DocPath Ipanema Technology.
Audiovisual material has also gained prominence in other areas, such as software migrations, as DocPath wants its products to be both didactic and dynamic. As such. DocPath frequently publishes commercial videos, mainly in English, on its YouTube page, explaining its migration software and document management solutions.
Technical Support
Apart from DocPath recent interest in boosting its online identity, the company´s customer communication channels have always been open through its Technical Support area. This department provides three types of customer support depending on the type of incident: 8 or 12 hours on work days (8/5 and 12/5) or 24 hours a week (24/7).
In other words, direct communication with the DocPath Team is possible via email, telephone and now also via social networks online.
For more information, visit:

About DocPath
DocPath is a leading document technology software company. Founded in 1992, its headquarters is located in Madrid, Spain, with two other design and development offices. DocPath solutions are found in companies all over the world. Among its international clients are prestigious banks and first-class corporations, which are aided by DocPath solutions by simplifying the complicated and critical tasks involving design and the distribution of documents. DocPath maintains a strong commitment to R&D&i, an area that receives a good amount of its revenue, and in which lies the key to the company´s success.
For more information, visit http://www.docpath.com.
DocPath is a registered trademark of DocPath Corp. All rights reserved. Other trademarks may be the property of their respective owners.