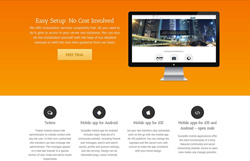 Yoshkar-Ola, Russia (PRWEB) November 17, 2014
PilotGroup.NET is happy to announce the new release of PG SocialBiz networking and community software.
PG SocialBiz is a turnkey PHP/MySQL script for building a social community website. With PG SocialBiz, creating a community platform or a niche social networking site is possible with little time and effort. The site owner will be able to bring similar-minded people together, providing them with search tools, communication opportunities, and much more.
This new reincarnation of the social script by the Pilot Group team is different from all the previous SocialBiz versions because it's been based on a different framework (CodeIgniter framework). The script has since evolved into an independent product with a convenient module structure that makes it easy to develop and install new functionality on the site.
The new social community website is ready to use right after it's been installed and tuned to the owner's specific requirements. Directly from the administration panel, the site owner will have access to SEO settings, design theme editor, colours and logotype, administrator contact info, GTC texts, and so on. Free installation and technical support come with the package.
The site members will be able to find friends and engage into different site activities, including multimedia files upload, photo and video galleries, comments on activity walls, likes, shares and winks, posting short messages in ShoutBox, and so on.
Communication tools include a mailbox, instant one-on-one messenger, profile wall and comments, video chats by third-party providers and direct chat with the site admin.
Monetization options are presented by the following paid services: banners, carousel/featured users, paid registration, stealth mode, reading and sending messages, activity in search, and more. The PG SocialBiz team is continuously working to expand this list. Monetization tools will help turn the social community site into a profitable business.
The SocialBiz social networking solution is enhanced by a multi-functional mobile version along with the mobile applications for iOS and Android platforms. Both the mobile version and the mobile apps can be re-branded to match the main site.
The site owner and administrator will have full access to the source code along with the access to the members' database, their payments and site prices. The script cost is a one-time fee.
Pilot Group's professional support team is there for the site owners to help them focus on promoting their site and running the business. What is more, the in-house customization development team can help modify the site by adding new functionality, applying unique design themes, and generally doing their programming magic to help achieve the site owner's goals.
Start your own social networking site today! View the detailed information and request a trial version of PG SocialBiz script at http://www.socialbiz.pro/ .
About PilotGroup.NET company:
The Pilot Group company develops turnkey software solutions. Among them is the popular dating script PG Dating Pro, the real estate solution PG Real Estate, the social networking script PG SocialBiz, and others.
The software products by PilotGroup.NET are PHP/MySQL-based, offering rich functionality, clean attractive design, and flexible setup options available directly in administration panel. The module structure of the products makes it easy to develop and install new features.
Every customer is guaranteed friendly and professional support, installation services, and one year of updates at no charge.
Pilot Group's own customisation development team can help tailor the site to meet specific requirements by doing design changes, functional modifications, integrations, and so on.