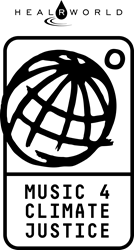 Music4ClimateJustice is a rallying cry for all sectors of society. Focusing on the most marginalized is the most important thing we can do to achieve the Sustainable Development Goals - Paul Polman, Honorary Chairman, former CEO of Unilever and Co-Founder and Chair of Imagine
GLASGOW, Scotland (PRWEB) November 04, 2021
Social impact company HealRWorld announced today that Music4ClimateJustice (M4CJ), a non-profit (501c3) concert and events series platform gathering more than 350 artists from around the world, will be taking place during the global climate change summit COP26. The eight-day event, beginning Nov 4th through Nov 12th will feature top performers, breakout musicians, and indigenous artists who've come together to shine a light on climate justice. Educational interviews and panels with business and thought leaders, athletes, and activists are also a part of the platform.
The event series will launch live from the Glasgow Marriott at 7:00 PM GMT on November 4th with themed performances occurring every night through the end of COP on November 12th. Performances will be broadcast through the Music4ClimateJustice event site starting at 7:00 PM GMT on November 4th.
An exclusive theme song for the event has been created by Bootsy Collins, Steven Van Zandt and Chew Fu. Available through digital marketplace E-NFT by Emmersive, the song will drop on November 4, 2021 at 12pm ET and marks the first in a series of NFTs designed to raise money for the non-profit.
Additional fundraising will be conducted through a charitable sweepstakes at WinTogether.org/M4CJ, operated by Lottery.com and initiated by 5th Element Group, a global impact consultancy. Prizes include a signed Bootsy Collins original prototype bass guitar, a grand prize eco-tour adventure to Belize, and more. WinTogether.org's Music4ClimateJustice campaign starts on November 4, 2021 and runs through March 2022. To donate to M4CJ and enter to win, go to http://www.wintogether.org/M4CJ
Music4ClimateJustice was founded and is sponsored by HealRWorld, a for-profit social impact company dedicated to fostering a regenerative global economy by helping businesses and consumers channel spending and investments designed to support a sustainable world. HealRWorld is producing and sponsoring the event in partnership with climate justice advocate Warren Senders of the New England Conservatory. Award-winning creative agency TBWA\Chiat\Day developed the global brand design for the platform and Fintech.TV serves as co-founder and media partner. Other top sponsors include ZASH Global Media and Lomotif.
In addition to streaming on Music4ClimateJustice's site, the event will run live on the broadcast and digital platform Lomotif and the global media network Fintech.TV will syndicate to Bloomberg, CNBC, and other networks. After the event, the music and performances will live on within the platform on demand. Additional events and content launches will be added to the platform on an ongoing basis through 2030.
Funds raised through Music4ClimateJustice will support a combination of non-profit and social impact organizations dedicated to tackling climate change challenges through projects and initiatives designed to limit global warming and support climate refugees and those most impacted by climate change. Beneficiaries include The Climate Justice Alliance, Guardians of the Forest, Conservation International, the United Nations Sustainable Stock Exchanges Initiative, and The Music4Climate Impact Fund.
"Everyone talks about how the world is going to be destroyed by climate change in twenty years or so, but the indigenous black and brown communities, as well as women and children, are already suffering the worst effects," says Michele Bongiovanni, CEO/Founder of HealRWorld and Founder of Music4ClimateJustice. "We need to use music to spotlight their plight and raise capital to make a real difference right now."
According to Denise Roberson, Chief Purpose Officer of TBWA\Chiat\Day and Co-founder of Music4ClimateJustice, "M4CJ is the embodiment of UN SDG 17 and the radical collaboration it will take from all of us to actually move the needle. Just like an army of voices joining a chorus, we need every company on the planet to realize this is their fight, enact some bravery, and help us change the way business is done. With employee, customer and investor values shifting daily, the time is now to stand up and help fight for climate justice and those most impacted by climate change."
Bongiovanni added, "This global event is not just another concert, it's the start of a movement to ignite radical collaboration between musicians, artists, athletes, changemakers, activists, brands, and organizations to save our planet. To drive measurable activation, we will also link to HealRWorld's new SDG-focused community and eCommerce platform supporting global ESG-committed small businesses as a vehicle for people to vote with their wallet for a better world."
For more information on the initiative, to donate, and to take the pledge, visit https://music4climatejustice.org.
# # #
About Music4ClimateJustice
Brought to you by HealRWorld in partnership with Warren Senders and The New England Conservatory, FINTECH.TV, and TBWA\Chiat\Day, Music4ClimateJustice (501c3) is a new hybrid event platform launching live at the United Nations Climate Summit—COP26, in Glasgow, Scotland (the biggest climate event ever) on November 4th to bring greater awareness to the fact that the most marginalized in our society--indigenous, brown and black communities, women and children—are the most impacted by climate change. Further, our goal is to raise financial support for climate refugees and those suffering the most. @Music4CJ on all available on all platforms. Subscribe on YouTube.
About HealRWorld
HealRWorld is a social impact company dedicated to fostering a more just and regenerative global economy by leveraging our proprietary ESG data on private companies to help businesses and consumers channel spending and investments to foster a more sustainable world. Funds raised from the event through our Music4ClimateImpactFund (501c3) will directly benefit these Climate Justice organizations and innovative climate action initiatives. @HealRWorld on all platforms. CEO, Michele Bongiovanni @HealRWorldCEO
More:
https://vimeo.com/610414030
COP26 Launch registration https://events.music4climatejustice.org/