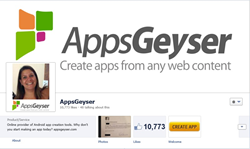 Social media continues to play a vital role in the success of an app.
(PRWEB) March 28, 2014
AppsGeyser is not only a free online app making tool platform it also holds its hand up to help new and existing businesses succeed by providing them with advice and support to help apps succeed. Through ongoing research it has become clear that in order for a business to succeed, whether it is an existing business that is creating an app , or a new app making business, it is paramount that the businesses ensure that they have some form of social media presence.
Social media networking is the modern day version of word of mouth marketing, with the added twist that allows messages to be passed from person to person in a viral manner, this means messages can quickly snowball in the social media world. Facebook, Twitter and Google+ remain the firm favourites amongst app makers and marketers because of the ease of use and the capability of reaching such a vast audience. App makers that have social media pages and profiles are ten times more likely to have business success than app makers that rely on traditional marketing techniques and app store optimization alone.
"I have recently created a range of gaming apps with AppsGeyser's free templates and I was uncertain how I would manage to market my new business," AppsGeyser app maker Jon benjamin told us. "I was advised that the best way to get my business up and running would be to create an audience online first through social media. I was surprised at how easy it was to create my audience and how quickly I managed to get my apps downloaded without having to push or sell my product."
"Although we are an Android app making tool platform, AppsGeyser would not be where it is today if our app makers were not seeing Android app success. AppsGeyser believes in providing not only the app creation tools, but also the additional support and advice required to make an app successful," AppsGeyser Co-founder Vasily Salomatov, explained, "Social media continues to play a vital role in the success of an app."
About AppsGeyser
AppsGeyser, launched in February 2011, is now the biggest Free Android App Builder on the market. AppsGeyser's popularity has risen by enabling users to create apps with ease for Android devices from any web content in under five minutes. AppsGeyser has seen more than 832,000 apps created on its platform. There have been more than 611 million downloads of its apps.