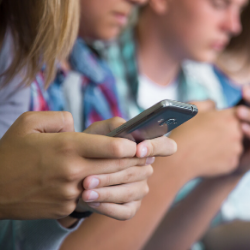 "The drug epidemic is spiraling out of control due to the presence of social media. I got hooked on drugs in the nineties, back when Snapchat didn't exist. Social media dealers, and the generational peer pressure seen through social media, is largely contributing to this epidemic."
MURFREESBORO, Tenn. (PRWEB) December 16, 2019
Startling news has surfaced about drug dealing methodologies directed at children. Drug dealers are now adding kids on Snapchat through its quick add feature, which identifies nearby users based on zip code. To identify themselves, these dealers use a plug emoji in their name as an ode to the street term "plug" commonly used to describe them [1]. Most of the time these dealers are complete strangers, and children are meeting up with them and receiving Xanax, marijuana and vape cartridges laced with THC, known as "carts." Michael DeLeon, the number one booked school speaker in America on drug related issues and founder of Steered Straight, dedicates his life to try to stop children from going down this dangerous path; one he is all too familiar with himself.
"The drug epidemic is spiraling out of control due to the presence of social media. I got hooked on drugs in the nineties, back when Snapchat didn't exist. Social media dealers, and the generational peer pressure seen through social media, is largely contributing to this epidemic," DeLeon said.
DeLeon has spent the last 12 years fighting to prevent drug and alcohol use in children after going through the most tragic incident in his life—the murder of his mother. When DeLeon was on a three-day drug binge, his mother was murdered in her own home. They culprits came to his house looking for him after a drug deal gone wrong, and when they found his mother instead, they strangled her to death. Despite DeLeon's innocence, which was supplemented by two passed polygraph tests, the state was determined to put away someone for the murder. Thus, with the outcome looking bleak, he took a plea deal for aggravated manslaughter and spent five years in prison for this crime (he's spent 12 years total in prison for that and other drug related offenses).
"I didn't kill my mother, but I am responsible for her death," says DeLeon. "Now I spend every single day, 365 days a year, trying to speak to kids in a way that they understand to prevent them from choosing the path of drugs like I did. I get it because I went through it—that's why they listen to me."
DeLeon's mission into 2020 and beyond is simple; speak to as many kids, prisoners, students, teachers and parents that he can to educate and empower the masses. Many parents are unaware of social media nuances like the Snapchat locational map and quick add features that facilitate drug use. Even more are unsure of how to speak to their children about it. Unfortunately, it often takes a tragic story like DeLeon's to truly deliver the message.
Dorrie Carolan, founder of the Newton Parent Connections in Newtown, Conn., testified to the power of his message after DeLeon gave a presentation there last month. "At the beginning of his talk, the kids and even the teachers and I were probably caught a little off guard because he dwelled so long on his family situations," Carolan said. "But without that background, his strongest messaging about how individual decisions sometimes have negative, life-changing consequences for other loved ones may not have hit home like I think it did [2]."
For parents wondering how to hit home with their children on this issue, DeLeon has a few tips:
1) Talk to Them: "Talk to your kids about everything—school, friends, who they have a crush on. Everything. Studies show that teens who eat dinner with their families five times a week are less likely to smoke, drink or use drugs3. So I always advise parents to eat meals with their kids as frequently as possible. It's the perfect setting to chat."
2) Social Media Roundup. "Figure out what apps your kids are on and what they're posting. Look into the privacy settings for them to ensure their location isn't shared with strangers. Some may say qualify this as snooping, but this is a matter of your child's health and wellbeing. Talk to them."
3) Drug-Testing: "I advise parents to begin drug testing their kids regularly starting in sixth, seventh or eighth grade. Drug testing shouldn't be reserved for suspicion of use. It's the best deterrent you have to ensure your child stays on the right track."
Though changes are needed on federal and state levels to regulate and control drugs—particularly marijuana, opiates and vaping—the more immediate solution is to warn young adults everywhere about the dangers of the drug epidemic.
"By treating them as adults with a raw, open conversation," says DeLeon, "We have a chance at influencing them to avoid the influence of these deadly substances."
About Michael DeLeon
Michael DeLeon has become the #1 School Presenter in America, educating over 5,000 students per week on substance abuse issues. Michael is the leading subject matter expert on vaping and current youth drug trends; he wrote a book for parents called Table Talks (available here) about how to have meaningful conversations with children about drugs and alcohol. is the Founder and CEO of Steered Straight, a non-profit organization providing educational programs and materials to youth, families, and communities across the country and around the world. He is a thought leader in the addiction and substance abuse community and is an advocate for social and public health change, parent/teacher education, and is spearheading multiple anti-vape campaigns and awareness Programs. Visit https://www.steeredstraight.org/
1) Spiewak, Jim, and Maren Jensen. "Drug Dealers Find Potential Young Customers on Snapchat, Social Media." KUTV, KUTV, 20 Nov. 2019.
2) Voket, John. "NPC Founder Said Latest Forum Delivered Heavy Hit Against Vaping." NPC Founder Said Latest Forum Delivered Heavy Hit Against Vaping | The Newtown Bee, 25 Nov. 2019.
3) Hendrick, Bill. "Family Dinners Reduce Teen Drug Use." WebMD, WebMD, 22 Sept. 2010.
###