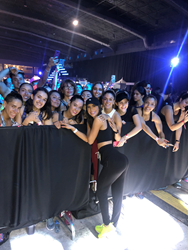 When I signed Jen 4 years ago every interaction with her 38 million fans was done through posts on her social platforms only. Today her fans are screaming for her to come and visit them all over the world - Morgenstein
NEW YORK (PRWEB) May 29, 2019
Jen Selter, the original "OG" of fitness influencers on platforms such as Instagram, has started her conversion to mainstream fitness and lifestyle celebrity. Selter has long been considered the Unicorn regarding social media influence on 18 to 34 year old's who look to her for everything from what she does to her body, what she puts in her body to how she recovers. This past weekend Selter was invited to the Powerade Reach held in Mexico City to headline a weekend event focused on people interested in fitness. Knowing that Selter has an enormous audience South of the Border led to incredible anticipation for her second visit to Mexico.
Selter was hired to attend the event, execute a fitness class and meet with thousands of her adoring fans from all over South and Central America who came to the Powerade Reach fitness expo. To no one's surprise, Selter's appearance drew over 3,000 participants with thousands more watching Selter teach a class that she created focused on all areas of the body. When asked about the motivation behind the workout, Selter shared, "I am not a certified trainer so what I share are workouts and routines that anyone can do no matter how many times they go to the gym or how long they have worked out. I want to get all types of people into fitness and help grow a massive universe of diverse people who share the same goals in common which is to be the "best you" you can be."
Selter got the crowd into a frenzy when she came on stage and welcomed the crowd in Spanish. Although not her native language, Selter constantly tries to increase her vocabulary so she is more fluent. Selter went on to say that "Fitness is the World's universal language". After the workout, Selter was mobbed by fans screaming to take "selfies" and "belfies (butt selfies)" with her. The line was hours long but Selter stayed and signed autographs and took pictures with everyone. Selter's agent Evan Morgenstein from PMG Sports sees a trend, "When I signed Jen 4 years ago every interaction with her 38 million fans was done through posts on her social platforms only. Today her fans are screaming for her to come and visit them all over the world. Korea, Prague, London, Dublin, Greece, Mexico, Canada and so many other locations. The transformation to a cross-over star has started."
Selter is currently discussing with event promoters to bring a Jen Selter Fitness tour to cities across the United States and countries all over the world including Israel, Australia, China and the Emirates. Selter's global reach can be seen by the explosive growth of her business partners BlendJet (http://www.blendjet.com), her signature protein bar (http://www.jenstabar.com) and her fitness workout plans (http://www.fitplanapp.com). These partners and others are seeing explosive growth to their products and services based on their partnerships with Jen.
To contact Jen Selter regarding partnerships, appearances or bringing in her fitness tour contact Evan Morgenstein at 919 332 0584 or evan(at)pmgsports(dot) com