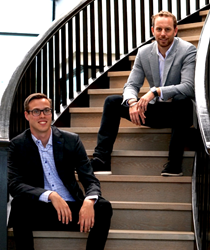 We wanted the youth of our country to look at their money in a different way. There are so many amazing stories and memories behind bank and credit card transactions, and we want iBank users to see that and feel that when they look at their financials
COSTA MESA, Calif. (PRWEB) May 12, 2020
Fintech power houses Trey Markel and Mike Lindsey, who currently own and operate Centrex Software, a successful and fast growing CRM/ERP platform for the business finance sector, have spent the last year building the first ever social money management app called iBank. With iBank, when you look at your bank statements, instead of looking at line item after line item and debit after debit and credit after credit, you will see memories, adventures, your friends, your family, and the things that you truly care about and value in your life. "We wanted the youth of our country to look at their money in a different way. There are amazing stories and memories behind bank and credit card transactions, and we want people to see that and feel that when they look at their financials," says Trey Markel, CEO and co-founder of iBank.
The iBank app pulls in financial information from all different types of financial institutions via their integration with Plaid, a financial data aggregation platform which just sold to Visa for $5.3 billion, so that transactions can be viewed and managed all in one place. Once transactions start flowing into the iBank app, iBank users have the ability to associate a photo to that transaction so they can remember what that transaction was for. The iBank team calls this "creating memories." iBank users also have the ability to tag friends and family members in their transactions so they can better understand over the course of time, how much money they have spent with that friend or family member.
Peter Markel, a millennial and Director of Online Media at iBank expresses, "We took a deep dive into our own personal lives and asked ourselves what we valued most. We decided it was our friends and our family and the memories that are built with those friends and family. We then realized that these memories cost money but with no way to link the two together. That's where we started getting creative." Millennials, depending on what magazine you read, are born between 1982 and 1996. There are 75 million millennials in the United States, 6.5 million of which are affluent (meaning they generate over $100,000 a year in combined household income). Millennials are trendsetters and builders and have the most spending power of any generation in the history of mankind coming in at just over $200 billion. They put an enormous amount of value into their social lives and social technology. They are the social generation. With the boom of technology in the early 2000's bringing the ability to communicate with friends and family with the click of a button, millennials quickly evangelized new ways of connecting, and have stayed connected ever since.
What millennials also truly love and dream about are adventures, or trips with their family and friends. iBank also allows its users to create adventures, invite friends to those adventures, and budget for those adventures. When iBank user is on an adventure, they can tag transactions to that adventure, so they know how much they spent on that adventure. At the end of the adventure, the iBank app will send the iBank user an email with a collage of all their memories/transactions from that adventure. When creating an adventure, the app will even help you save money to put towards that adventure. "I have been in plenty of situations where a friend of mine has passed up on a future trip and then at the last minute will say yes to attending the trip and put the trip on a high interest rate credit card. If they would have had some help from iBank perhaps, they would have had enough money saved for that trip not allowing for more debt to pile up," explains Mike Lindsey, COO and co-founder of iBank.
What really brings the iBank app full circle are some of the future plans it has for the technology. The iBank software development team has started building features like automated roommate bill splitting, geo targeting to better understand where a user spends their money the most, the ability to safely and securely follow a friends savings plan, and the ability to have an iBank debit card right in your wallet to make purchases that can be used at any location anywhere around the world. "I have never seen a fintech play like this before. These guys are going to break ground on a completely new and innovative way of looking at your financials and your social life. We have interest from all around the country and now we just have to make sure we partner with the right group" says Izzy Lozada co-founder of Fidelity Equity Partners, the firm iBank hired to advise in a capital raise for the company.
With times being so uncertain do to COVID 19, Trey and Mike were thinking of holding off on the launch of the iBank platform thinking it simply wasn't the right time. After much thought and deliberation on how consumers will want to manage their money moving forward, Trey and Mike changed their minds. "We had no idea what to do after we learned about most of the country be forced to stay in their homes. As logical businessmen we didn't think it was appropriate or the right time to launch the iBank app. However, we quickly came to the realization that this is the perfect time to re-think your money management strategy as a millennial. This is the perfect time to set your foundations strong. This is the perfect time to be stronger than you have ever been before when it comes to your money. Money shouldn't be this intimidating thing that scares everyone. We want iBank users to be friends with their money," says Trey Markel.
The iBank app is now live in the Apple App Store and the Google Play Store and ready for action. One of the best parts of the iBank app is that not a single ad will be displayed to iBank users, ever. Trey and Mike took a very hard stance on not wanting to promote high interest rate credit cards or predatory loan programs that can never be paid off. They wanted the experience to be a clean un-intrusive one. Most importantly, they wanted to create an experience that truly caters to the iBank users personal financial health. Trey and Mike are looking forward to you living your best life with iBank.