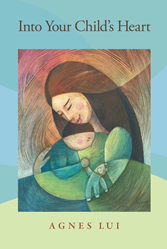 "Going through that experience really has inspired me to look for the center of peace, where each of us can make a difference," Lui said. "My spiritual teacher and I believe that peace and love begin at home. From that time on, I see myself as a spirit on a human journey."
PHOENIX (PRWEB) February 24, 2020
The ways parents raise their children inevitably shape their future as well as the future of society. What they teach and pass along to them influence who they are to become. Social worker and author Agnes Lui encourage parents to teach positivity, compassion and unconditional love as well as to tap into their children's spirituality to shine angelic love to the world in her book, "Into Your Child's Heart."
In the book, Lui shares her stories from childhood and tells readers how these experiences affected her as a person, and later, as a parent. She reflects on her family of origin and the ways both the Western and Chinese cultures have influenced her life. Blessed Spirits come forth throughout her life to help her with life's challenges and to show her the spiritual side of parenting.
Lui also draws from her experiences and observations as a social worker to discuss her concerns about the plight children and teens are in today. She shares with the readers how parents can help their children develop effective communication skills and strong character with good judgment that will help them to navigate their lives in the future. The core foundation is parental self-awareness of what's in their heart and the strength of the love they share with their children.
In the aftermath of the September 11th attack, the author realizes that more than ever the world is hurting. "Going through that experience really has inspired me to look for the center of peace, where each of us can make a difference," Lui said. "My spiritual teacher and I believe that peace and love begin at home. From that time on, I see myself as a spirit on a human journey."
Critics such as award-winning author Kathleen Spivack hail "Into Your Child's Heart" as "a spiritual journey…a deeply meaningful meditation, a prayer for world harmony on every level of being." Poet Lawrence Kessenich praises the book, describing Lui as someone who "has found wisdom through being a social worker and parent, through interactions with a wise spiritual teacher, and through dealing with difficulties with her family of origin. She shares that wisdom with us—and we certainly need it—and relates individual pain to the pain the whole world is in."
"Into Your Child's Heart"
By Agnes Lui
ISBN: 978-1-9822-3871-1 (softcover); 978-1-9822-3873-5 (hardcover); 978-1-9822-3872-8 (electronic)
Available at the Balboa Press Online Bookstore, Amazon and Barnes & Noble.
About the author
Agnes Lui received a master's degree in social work from Boston College. She worked at various child welfare agencies—where she matched volunteers to needy children and teens, where she worked with struggling immigrant families in a Chinese community, and where she did therapy with troubled and abusive families. To learn more about Lui and her book, please visit her website, http://www.intoyourchildsheart.com.
For Interview Requests and Book Copies:
LAVIDGE – Phoenix
Krista Tillman
480-648-7560
ktillman@lavidge.com