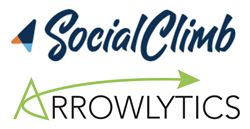 With SocialClimb powering patient acquisition and Arrowlytics delivering KPIs to increase efficiency, practices can have the tools they need to grow and increase profitability.
AUSTIN, Texas (PRWEB) January 23, 2020
This week, SocialClimb and Arrowlytics announced a strategic partnership using SocialClimb's innovative technology to power the Arrowlytics platform and deliver its key performance indicators (KPIs) to measure, monitor and improve medical practice efficiency and profitability. SocialClimb's platform integrates seamlessly with practice management systems to extract the data necessary to enable Arrowlytics.
"We access the same data to help practices and physicians automate their patient acquisition and identify ideal patients, so this collaboration makes sense," said Ty Allen, CEO of SocialClimb. "Running a practice, whether large or small, comes with challenges in many areas. With SocialClimb powering patient acquisition and Arrowlytics delivering KPIs to increase efficiency, practices can have the tools they need to grow and increase profitability. Additionally, the Arrowlytics team of operational experts brings an optional service offering to any of our clients needing additional implementation and on-going support to fully leverage our patient acquisition capabilities."
The ability to access data in useful ways will empower physicians to build their practices and improve patient and business outcomes. The extracted data allows Arrowlytics to use dozens of its performance measurements to identify and track opportunities for optimization. The resulting data-driven decision-making helps medical practices run their business using actionable insight into areas such as finance, operations, asset utilization, patient experience, outcomes and compliance.
"We have been working with SocialClimb informally to help mutual clients for a while. Their focus and track record of building a scalable, automated patient acquisition platform leveraging cutting-edge technology made them a natural fit to partner with for co-developing additional value add KPIs," said Steve Hendrick, CEO of Arrowlytics. "This allows us both to leverage a consolidated technology platform for the benefit of physician groups. Having the technology platform and operational implementation and support to leverage online reputation management to focus on new patient acquisition as well as having all of a practice's KPIs all in one combined offering is a very powerful combination."
This partnership provides medical practices the opportunity to tap into the vast amounts of information they have stored in their patient management systems and use it to achieve targeted growth based on measured results. For more information about partnering with SocialClimb to improve online reputation, dominate competitive markets and fill schedules with a profitable market share of patients, call 888-338-8270 or visit SocialClimb.com. For more information on using Arrowlytics' practice analytics and data-driven practice consulting services, please visit Arrowlytics.com.
ABOUT SOCIALCLIMB
SocialClimb helps physicians improve their reputations, dominate local search and increase revenue. Its industry-leading platform lets physicians easily collect reviews, increase search rankings, respond to issues instantly, manage their key listings and strengthen practice and personal reputations quickly. Learn more about SocialClimb at SocialClimb.com.
ABOUT ARROWLYTICS
Arrowlytics provides a healthcare analytics dashboard of consolidated data that measures key performance indicators consisting of over 250 performance metrics, which are used to help medical practices run their business through data-driven decision making. Additionally, Arrowlytics provides consultative support to clients using the dashboard through our team of healthcare executives and business intelligence experts with a combined 100+ years of experience in healthcare operations.