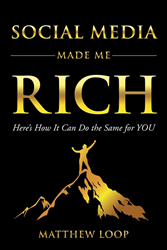 A lot of companies "do" social media. However, it's not what you do that determines your success, it's HOW you do it.
Atlanta GA (PRWEB) January 05, 2016
Internationally recognized social media revenue strategist and speaker, Matthew Loop has launched an empowering new book titled, Social Media Made Me Rich. After two long years of dedication, this comprehensive resource is now available to the public on Amazon and other fine retailers. This work shares which strategies the world's highest paid internet entrepreneurs are using to multiply their impact, influence and income in the new economy. It's a all-inclusive blueprint that helps aspiring business owners, start-ups, and established companies achieve prosperity on their terms.
When contacted in his Atlanta office Loop said, "Social Media Made Me Rich is for anyone that's ever been an underdog in life. It's for those that have encountered tremendous adversity, constant rejection, who never had a silver spoon, the right connections, or chips stacked in their favor. It's also for any business owner that wants to double or triple their current profits by using Facebook, YouTube, Instagram, Google, etc. We live in an amazing time and there's such an abundance of opportunity. Anyone with an idea can turn their passion and experience into products / services that make money online. The public would gladly pay the average person for his/her advice if it's positioned, packaged and marketed correctly."
Loop went-on to say, "A huge problem I see is this. So many entrepreneurs and companies haphazardly use social media or don't know where to start. This is partly because of lack of internet marketing know-how as well as bad advice from supposed gurus. The average business owner is just not trained how to strategically create value online while building strong relationships and a culture of raving fans. If this is done the right way, it results in a predictable surge of sales revenue and positive PR. A lot of companies "do" social media. However, it's not what you do that determines your success, it's HOW you do it. So much is being left on the table right now."
He also commented, "Social Media Made Me Rich shows established companies, startups, and entrepreneurs how to MAXIMIZE their effectiveness on social media in order to deliver value, build fan rapport and create lucrative income streams from the internet.
Social Media Made Me Rich also teaches:

How to profit big from Facebook, Instagram, YouTube, Twitter, Pinterest, Amazon, and Google.
The biggest (and dumbest) mistakes to avoid when using high-leverage social platforms.
A million-dollar plan so anyone can start from start from scratch and monetize themselves along with their knowledge/experience.
The most sought after scripts that grow any brand, influence, and bottom line fast.
How to become the celebrity expert in their industry.
The secret to attracting greater numbers of clients and sales without spending money.
And much more.
Among many accomplishments Matthew Loop is an author, speaker, philanthropist, and the highest paid social media revenue strategist in North America. He's trained over 27,000 business owners while having his finger on the pulse of social media since its infancy in 2005. His public speaking events are attended by thousands of high-achievers and forward thinkers annually. Matthew has developed a reliable blueprint, knowledge and experience to connect anyone (or company) with a BIG vision to their desired outcome.
He further commented, "My philosophy is simple. Find a problem. Fix it. Make bank. Enjoy the freedom and flexibility that comes with being a successful entrepreneur. Experience more in the world. Start a movement. Pay it forward to those less fortunate."
The great thing about platforms like Facebook, YouTube, Google, and Instagram is that they allow anyone with a passion an unprecedented opportunity to deliver value, give back, and monetize their brand or expertise in a professional way. The secret is proper positioning and knowing how to stand out in a positive manner. Matthew has perfected this and Social Media Made Me Rich helps others replicate the process.
For more information on Social Media Made Me Rich and to grab a copy (with the limited time launch bonuses that are being offered with today's purchase), visit http://SocialMediaMadeMeRich.com/launch-bonus/ . This book provides the guidance, resources, tools, and know-how that build brand equity online while quickly increasing profits generated in the process.
Visit http://SocialMediaMadeMeRich.com to learn more about Matthew and to get the first six chapters of the book free.