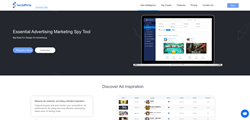 SocialPeta: Essential Advertising Marketing Spy Tool
SINGAPORE (PRWEB) February 21, 2020
In the global technology boom, data is becoming the cornerstone of online marketing for businesses and individuals. At the beginning of 2020, SocialPeta, a global leading advertising spy tool, brings users a brand new 3.0 version, with a big improvement in the user interface for the convenience of use and inquiry.
SocialPeta has accumulated over 600 million pieces of advertising data, covering 70+ mainstream networks around the world, including up to one million pieces of daily advertising data. It offers rankings on multiple dimensions from Top Leading Advertisers and Top New Advertisers to New Advertisers, along with data analysis of ad creative, ads inspiration, advertising and audience, joint companies, etc. as well as interest recommendation to facilitate market understanding and decision making.
SocialPeta 3.0: A Personal Data Analyst
In addition to existing functions like multi-dimensional rankings and diverse data analysis, SocialPeta 3.0 is going to launch a range of personalized and data-based analytical features, and provide corporate users with data services based on their own product needs as well as market segments.
Specifically, the new upgrade is focused on three functions:
1) Personalized setting function. Overall analysis of the global market, free choice of analysis by region, industry, time or creative type, and detailed data reports for the reference of user decision-making;
2) Creative Hub function. Attention data analysis of ad creative, ad copy, related companies, etc. and the most collected rankings of items of inquiry to help users know popular trends and popular creatives;
3) Full-stack search function. Precise analysis of advertising content, advertisers, creative copy, etc. and search/inquiry of specific content to give users a thorough grasp of advertising data intelligence they need.
In 2020, SocialPeta will continue to drive efficiency boosts with technology and help companies win the market with efficiency.