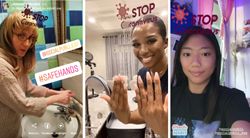 "It has been encouraging to see how many of our influencers have shown up willing to lend a helping hand. Our intention is to continue empowering them to use their influence for good in order to bring attention and inspire action in support of the causes that matter most right now."
NEW YORK (PRWEB) April 06, 2020
SocialPubli (https://socialpubli.com/), the leading global micro-influencer marketing platform, today announced a pro-bono initiative to assist nonprofits responding to the COVID-19 crisis in raising awareness and mobilizing support for their causes.
The initiative aims to amplify the reach of nonprofits fighting coronavirus by facilitating collaborations with thousands of social media influencers from across 35 countries. Effective immediately, local, national, and international nonprofits in North America, South America, and Europe will be able to utilize the platform to launch influencer marketing campaigns on Instagram, TikTok, Facebook, Twitter, and YouTube.
"Our headquarters are in Madrid, Spain, one of the European epicenters of the pandemic so we understand from first-hand experience about the seriousness and magnitude of this outbreak which will only be defeated with solidarity and collaboration. We want to help healthcare, charity, volunteering, and other nonprofit organizations who are directly assisting people against COVID-19, and putting our platform with over 160,000 registered influencers at their disposal is our way of being of service," says Ismael El-Qudsi, CEO of SocialPubli.
Throughout the past few weeks, SocialPubli has tapped influencers in multiple markets to spread social distancing guidelines and preventive measures recommended by the World Health Organization across TikTok, Instagram, and Twitter. A #StopCoronavirus Instagram filter was also created and shared among influencers who are motivating their followers to stay at home. A total of 2,700 posts have been published, reaching over 5 million social media users to date.
"It has been encouraging to see how many of our influencers have shown up willing to lend a helping hand. Our intention is to continue empowering them to use their influence for good in order to bring attention and inspire action in support of the causes that matter most right now," adds El-Qudsi.
Influencers participating in COVID-19 pro-bono awareness activations do not receive monetary compensation. As an incentive, the SocialPubli team is rewarding them with points, and those who accrue the highest number of points will be publicly recognized across SocialPubli's social media accounts on a monthly basis.
Local, regional, and international nonprofits who qualify will be granted free access to the influencer marketing platform through June 30, 2020. Organizations interested in utilizing the platform should email info@socialpubli.com.
About SocialPubli:
SocialPubli is an award-winning self-serve platform that connects marketers with micro-influencers across Instagram, TikTok, Facebook, Twitter, YouTube, LinkedIn, and blogs.
Founded in Madrid, Spain in 2015, SocialPubli has consistently grown year-over-year positioning itself as one of the world leaders in micro-influencer marketing with more than 160,000 opt-in influencers in 35 countries and an audience that reaches over two billion people.
The platform enables brands to leverage the power of micro-influencers to deliver unprecedented levels of engagement and drive meaningful and authentic conversations on social media. It offers an end-to-end software solution to identify and connect with new influencers, communicate campaign asks, approve influencer content, distribute content across social media platforms and track the analytics in real time. For more information, visit http://www.socialpubli.com.