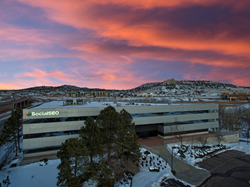 We are thrilled to have yet another year of exponential growth. Having a great team has always been a vital key to our success. We look forward to seeing what the next year holds.
COLORADO SPRINGS, Colo. (PRWEB) September 06, 2018
For the second consecutive year, SocialSEO is proud to earn a place in an elite group of the fastest growing companies in America. Over the years, this group has included companies such as Microsoft, Timberland, Vizio, Intuit, Chobani, Oracle, and Zappos.com. To qualify for a spot on the coveted list, a company must be:

Based in the U.S.
Privately held, for-profit and independent (not a subsidiary or division of another company) and
Meet minimum revenue and growth percentages
Led by its innovative and forward-thinking Founder and CEO Greg Walthour, Colorado Springs based SocialSEO ranks 2263 out of 5000 on the 2018 list, due to phenomenal year-over-year growth of 68%. Specializing in the dynamic arena of digital marketing and working closely with Google as a Google Premier Partner, SocialSEO is a powerhouse team of 80+ full time employees trained in the latest Search Engine Optimization (SEO), Social Media (SM) and Search Engine Marketing (SEM) techniques and strategies. The company is poised to cross the $10,000,000 mark in revenue next year, with anticipation building company-wide as growth continues to climb.
In 2018, SocialSEO has not only seen the addition of a Phoenix office, but experienced explosive expansion in its Colorado Springs headquarters, currently inhabiting over 15,000 sq. ft. The space includes private offices, several conference rooms, team centers, a family kitchen, and a recently added open space complete with live plants and several Colorado aspen trees sourced locally from Westcliffe, Colorado. Employees can gather around a communal table, get comfortable on a sectional sofa, or stretch out in Adirondack chairs with their laptops. Expanding on the idea that everyone at SocialSEO is family and part of the team, employees now have the option to sign up for one of two available monthly slots to bring their pet pooch to work.
An engaging and enjoyable company culture and strong company values are something SocialSEO keeps front and center with every decision as it continues to focus on improving the lives of its clients as well as its employees, all while helping other businesses succeed with state-of-the-art digital marketing in Colorado Springs, Denver, Boulder, Colorado and Phoenix, Arizona.
If you're interested in joining the talented team of one of America's Fastest Growing Companies, visit SocialSEO and browse our current job openings for more information.
Contact:
Daniel Wells, Mgr. of Marketing and Advertising
(719) 725-6400