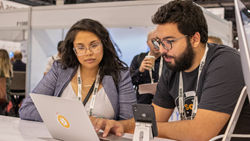 INDIANAPOLIS (PRWEB) February 18, 2020
Socio, a leading event management platform that helps enterprises, member-based organizations, and third-party planners optimize their live events, today announced its top-rated customer service has expanded to include 24/5 support.
"We consistently hear from event organizers how support is their single most important consideration when choosing new technology, and we couldn't agree more," said Socio Chief Executive Officer and Co-Founder, Yarkin Sakucoglu. "When you need event support, you need it now. Not a day from now, or even an hour from now, but now."
With an industry-leading first response time of less than 5 minutes, Socio's support team can quickly respond to event organizers in the field via live chat and email—24 hours a day, 5 days a week.
While the event space is not known for great customer support, Socio's continuous commitment to its customers has led to a world-class NPS score of 83.
"We like to tell our customers, 'You're always in control, but you're never alone,'" Sakucoglu said.
That commitment to customer success is reflected further by Socio's multiple recognitions for "Best Support" in G2s Mobile Event App Comparison Report - Winter 2020, which summarizes user satisfaction ratings against all category leaders.
"We want our customers to feel like our support team is an extension of their own team," said Joe Watkins, Socio Chief Customer Officer and Co-Founder.
Based in Indianapolis and Istanbul, Socio's line of event management products include the customizable Socio Event App, Socio Lead Retrieval, and Socio Live Display.
Socio's customers include names such as Google, Microsoft, and Human Resources Professionals Association (HRPA) along with other major enterprises, associations, and event organizers. Its client base has grown to more than 600 customers in nearly 50 countries.
In July of 2019, Socio closed a $6 million Series A funding round led by High Alpha Capital and Greenspring Associates.
###
About Socio:
Socio helps enterprises, member organizations, and third-party planners optimize their live events. Clients such as Google, Microsoft, and PepsiCo use Socio's event management platform to power their events and facilitate millions of interactions globally. For more information, visit http://www.socio.events.