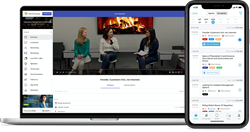 INDIANAPOLIS (PRWEB) April 20, 2020
Socio, a leading event technology company, today unveiled its new Virtual Events Suite, which will include a community platform, multiple device streaming options, and Orange Glove Service to help event organizers make the pivot to virtual.
As COVID-19 reshapes the event industry, organizers have been forced to pivot all live events to virtual platforms, but many face challenges creating engaging digital experiences. From networking to sponsorship to engagement, organizers are having to rethink nearly every detail of their event execution.
"Socio has been the driving force behind thousands of successful events — both onsite and virtual," Said Yarkin Sakucoglu, Socio Chief Executive Officer. "Given the enormity of COVID-19 in the events industry, we're excited to roll out our next generation of virtual features to help our clients make the pivot to virtual as easy as possible. Although times are challenging, I think the changes event organizers are making will lead to sustainable and improved business practices when the time comes to pivot back to live events."
Socio's new Communities platform opens the door for indefinite engagement in a branded ecosystem. Serving as a hub for a series of virtual event experiences, Socio Communities allows event organizers to produce frequent and consistent multimedia touchpoints, and inspire thought leadership, networking, and engagement — 365 days a year. The opt-in nature of communities allows event organizers to build stronger connections with their audiences that translate into lasting brand loyalty.
"No matter how hard we try to make virtual events replicate a live experience, people aren't meeting in person, so it will never feel the same," Sakucoglu said. "If we reverse engineer what events accomplish — building bridges with each other, our organizations, and our content — you quickly realize you need more than a webinar. You need that string that binds everything together. With Communities, you can keep the conversation going with your audience indefinitely, far beyond the confines of a physical event."
Socio's Virtual Event Suite seamlessly integrates with leading live streaming platforms, and attendees can now join the live stream directly from their virtual agenda, or click a button that instantly launches the live stream on mobile devices or a desktop computer for more optimal viewing. The multi-device capabilities allow organizers to engage with users wherever they are and toggle between their preferred devices for video consumption and networking.
To enhance sponsor visibility and engagement, organizers can now offer customizable buttons to "Schedule a Meeting" or "Request a Follow Up" and download the data for virtual lead generation. Additional features include virtual session reminders, responsive video streaming for mobile, and web app upgrades that allow users to view live streaming and engage with all app features in a single window.
"The real challenge in the industry's successful pivot to virtual is that more than 60 percent of event organizers have never planned a virtual or hybrid event," said Corey McCarthy, Socio Chief Marketing Officer. "Virtual events have a lot of moving pieces — there are tech requirements, differences in the way you structure content, differences in time constraints, and attention spans. It can feel daunting, to say the least. Organizers are hungry for solutions right now and Orange Glove offers a premium level of support that will help bring virtual events over the finish line."
Already recognized as a leader in the events space — backed by a world-class NPS score of 77 and industry-leading customer response time of five minutes or less — Socio's new Orange Glove Service includes comprehensive support to help clients along every step of their event journey, from ideation to completion.
Socio's Orange Glove Team will infuse events with best practices and strategies for pivoting to virtual, and assist with technical support. The overriding goal is to make the virtual transition as seamless as possible so the events industry can remain strong and companies can continue to conduct business during social distancing restrictions. Socio's Orange Glove Team can support all aspects of executing a virtual event, from designing custom event app layouts to setting up live streaming services.
Headquartered in Indianapolis and with global offices in San Francisco and Istanbul, Socio's customers include Google, Microsoft, PepsiCo, Comcast, Pinterest, Vans, and Harvard University, along with other major enterprises, member-based associations, and event organizers. Socio's client base has grown to more than 700 customers in nearly 70 countries.
In July of 2019, Socio closed a $6 million Series A funding round led by High Alpha Capital and Greenspring Associates. Socio's Co-founders — Yarkin Sacukoglu, Joe Watkins, and Alihan Ozbayrak — were awarded the 2020 Forbes 30 Under 30 for Enterprise Technology.
About Socio: Socio is an event technology platform built for live, hybrid, and virtual events. Products includes an interactive mobile app, community platform, full virtual event suite, Orange Glove Service, lead retrieval, and live display that easily integrates with countless external systems. The Socio platform uses drag-and-drop coding that makes it simple for organizers to customize a branded experience. Backed by High Alpha and Greenspring Associates, Socio takes great pride in customer loyalty with an NPS score of 77 and industry-leading customer response time of five minutes or less.