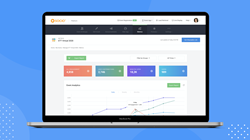 INDIANAPOLIS (PRWEB) February 04, 2021
Socio, a leading end-to-end event management platform for virtual, hybrid, and in-person events, today announced the release of the new Socio Data Dashboard, providing event organizers with real-time event metrics and deep insights.
Compared to other marketing channels, the event industry struggles to demonstrate event ROI—both from the perspective of the event organizer and sponsor. Socio's Data Dashboard offers tangible metrics on key event functions, including attendee and sponsor engagement, platform usage, content utilization, and more.
"Socio's Data Dashboard is the most comprehensive analytics solution in the event industry," said Yarkin Sakucoglu, Socio CEO and Co-founder. "From high-level metrics to the ability to drill down and see user-specific data at a granular level, organizers now have actionable insights to help them achieve their event goals."
After logging into the Socio Platform, admins can view metrics on attendee networking, social behavior, account activity, feature utilization, sponsor engagement, gamification, and much more. Organizers can download the rich event data with the click of a button, and send detailed reporting to their event teams and sponsor partners. All data is sortable and can be segmented further by device and operating system.
"You can't optimize what you can't measure," Sakucoglu says. "Socio's Data Dashboard lets you see what's happening at your event and take action, not just in the future, but in real time."
As in-person events declined in 2020 due to the ongoing COVID pandemic, some vendors remain hesitant to sponsor virtual and hybrid events out of fear they won't see a return on their investment. Socio's Data Dashboard offers key ROI metrics to demonstrate how attendees interact with each sponsor's content and promotions. Clicking into individual promotions reveals the full user profile, including contact information and social media handles. To boost lead generation, the dashboard shows metrics on attendees who favorited a sponsor profile, booked a meeting, or requested a follow-up call.
The Feature & Content Comparison Dashboard displays all platform features in a single, easy-to-read snapshot. It takes the guesswork out of event success, so organizers can see what resonates in the moment. Organizers can view high-level analytics, or dive deeper into individual features for attendee-specific metrics. The Feature & Content Comparison Dashboard helps organizers quickly understand how their content resonates with attendees, which speakers are most popular, which platform features receive the most or least attention, which sponsors offer the highest engagement, and more.
Socio's Data Dashboard announcement follows several recent product releases, including Socio Streaming—a streaming solution that allows organizers to produce TV-quality streams—Socio's RTMP Player, and Socio Registration.
Socio's end-to-end event management platform is backed by a world-class NPS score of 77, an award-winning customer support team providing weekend support and an average response time of 15 minutes or less, and Socio Professional Services, a premium services offering that places a dedicated Socio representative within a client's event team.
Socio has a North American headquarters in Indianapolis, Indiana, and an EMEA office based in Istanbul, Turkey. Socio's customers include Google, Microsoft, PepsiCo, Comcast, Pinterest, and The National Institutes of Health, along with other major enterprises, member-based associations, educational institutions, and event organizers.
About Socio: Socio is an event technology platform built for virtual, hybrid, and in-person events. The end-to-end system includes event registration, full virtual event suite, native streaming, an interactive mobile event app, community platform, professional services, lead retrieval, and live display.