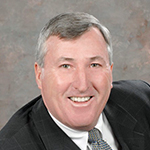 "... We remain unwaveringly committed to our strategic focus areas of new innovation, channel expansion and digital growth." -Tom Gibbs, Interim CEO.
WATERFORD, N.Y. (PRWEB) January 22, 2020
Soft-Tex International, Inc. announced today that Jeff Chilton is stepping down as Chief Executive Officer. Effective immediately, the Board of Directors has appointed Chief Financial Officer, Tom Gibbs, to serve as Interim Chief Executive Officer.
"On behalf of the board and the employees of Soft-Tex, I want to thank Jeff for the tremendous leadership he provided Soft-Tex over the course of his 8-year tenure. I am excited about Soft-Tex's future under Tom's guidance and the upcoming launch of Soft-Tex's new innovations like REACTEX™ and many other new technologies," said Bruce Roberston, Member of the Soft-Tex Board of Directors and Partner at Hudson Ferry Capital which maintains an investment in Soft-Tex.
"Soft-Tex is well-positioned to continue serving its industry-wide base of customers and we are confident in our team's ability to maintain our growth trajectory. We remain unwaveringly committed to our strategic focus areas of new innovation, channel expansion and digital growth." said Tom Gibbs, Interim CEO.
Remarking on Soft-Tex's focus, new Board member and REACTEX™ Inventor, Mark Smiderle, added, "The Soft-Tex product development and engineering teams work tirelessly to drive game changing innovation to come up with new ways to surprise and delight consumers which is critical in differentiating a product assortment from today's crowded marketplace of home comfort products. From REACTEX ™ personal climate control, to proprietary foam formulations, new wellness lines, and much more, the Soft-Tex team provides true innovation, rapid product development, and the merchandising & marketing needed to commercialize product for a frictionless omnichannel retail experience."
The Soft-Tex Senior Management team in a separate letter to employees also reiterated its commitment to a seamless leadership transition and providing continued superior service to its current and future customers.
Soft-Tex will be exhibiting many new innovations at the upcoming Las Vegas Furniture Market January 26th - 30th as previously announced including new REACTEX™ for leather and upholstered furniture products. Interim CEO Tom Gibbs along with the entire Senior Management team are available for meetings during the Vegas Show. Soft-Tex also has begun taking appointments for the Spring New York Home Fashions Market March 23rd - 26th. For appointments for either show, please contact Showroom Manager, Eric Hasper, at ehasper(at)soft-tex.com or visit soft-tex.com/market-appt to book an appointment with our Senior Management Team.
About Interim Chief Executive Officer, Tom Gibbs, CPA
Mr. Gibbs joined Soft-Tex in 2012 as Controller and was promoted to the position of Chief Financial Officer in 2013 and has been a valuable member of the Soft-Tex Senior Management Team since that time. Prior to Soft-Tex, Mr. Gibbs served in a diverse array of senior financial executive roles, having served as Chief Financial Officer of Cookson Plastic Molding Corporation in Albany, NY and Chief Financial Officer of Loudon Plastics in Latham, NY.
Mr. Gibbs is an accredited as a Certified Public Accountant and Associate Real Estate Broker in the state of New York and is an alumnus of the accounting school at Manhattan College.
About Soft-Tex
Soft-Tex International is an innovation company focused on building the most comfortable products to help the world sleep and live better. With proprietary technologies spanning categories like personal climate control, wellness, antimicrobials, & allergen barriers, coupled with coveted national brands like SensorPEDIC®, SensorGel®, BioPEDIC®, & DreamSmart®, Soft-Tex offers its retail, distributor, and other partners the highest quality, most comfortable products with best-in-class, in-house merchandising, digital marketing, customer service and global supply chain capabilities.