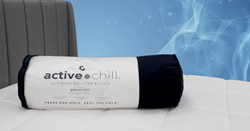 WATERFORD, N.Y. (PRWEB) August 14, 2020
Soft-Tex International is excited to announce its plans for a virtual market experience in light of COVID-19 and new products.
Virtual Market Experience
Soft-Tex is producing a virtual market experience showcasing new products and innovation. The video will launch as a YouTube premier with information forthcoming. The Furniture & International Division will also be hosting virtual meetings and line reviews with customers. For a virtual appointment, please register at https://soft-tex.com/market-appt/ or contact Vice President for Furniture and International Sales, John Timmerman at jtimmerman(at)soft-tex.com
Active Chill Powered By REACTEX Products Available Now
Soft-Tex is pleased to announce the availability of Active Chill Powered by REACTEX branded pillows and personal cooling pads. The Active Chill collection features the pinnacle level of REACTEX technology providing sustained, all night cooling and are filled and finished in Soft-Tex's Waterford, New York plant. Pillows are available in Jumbo and King sizes with MSRP of $169.99 on the Jumbo and $199.99 on the King. The Active Chill Micro-Climate Cooling Pad is a new product category designed to provide superior cooling for the individual sleeper without changing the feel of your mattress or your partner's climate. The Micro-Climate pad MSRPs for $149.99.
A new introduction for this market is the Active Chill Ultimate Bolster Pillow which is a 12" diameter x 36" long cylindrical bolster pillow featuring superior cooling. This pillow is perfect for use as a maternity pillow or for side sleepers who want a cooler sleep experience throughout their body.
New DreamSmart Protection Products
Soft-Tex is also showcasing several new products under the DreamSmart protection line including brand new packaging and fabrics for Cool Cotton and Essentials protector lines and the newest addition to the assortment, the Gripwise 5-Sided Waterproof Mattress Protector. This new protector offers 5 sided protection with 4-way stretch leveraging Soft-Tex's proprietary Gripwise® skirt technology. Unlike other mattress protectors that only feature top panel protection, this protector offers protection across the entire product and the 4-way stretch is the ideal solution for adjustable beds.
Vendor Direct Quick Ship Products
Soft-Tex's Vendor Direct / eCommerce Division is pleased to highlight several stocked fresh and clean themed items for this market perfect for meeting the needs of consumers concerned about the cleanliness of their bedding during COVID-19. These products include the new collection of BioPEDIC Ultra-Fresh antimicrobial pillows, mattress pads, protectors, and mattress toppers and our Microshield allergen blocking mattress and pillow protectors.
Other newly stocked innovations include Adjust-A-Cube adjustable memory foam pillows and microencapsulated CBD fiber pillows.
About Soft-Tex International
Soft-Tex International is an innovation company focused on building the most comfortable products to help the world sleep and live better. With proprietary technologies spanning categories like personal climate control, wellness, antimicrobials, & allergen barriers, coupled with coveted national brands like SensorPEDIC®, SensorGel®, BioPEDIC®, & DreamSmart®, Soft-Tex offers its retail, distributor, and other partners the highest quality, most comfortable products with best-in-class, in-house merchandising, digital marketing, customer service and global supply chain capabilities.