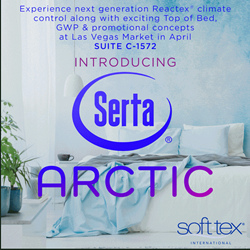 LAS VEGAS (PRWEB) March 30, 2021
Soft-Tex International, Inc. is pleased to unveil its newest product collections and welcome retailers back to its World Market Center showroom (C-1572) during Las Vegas Market week April 11th - 15th.
NEW SERTA ARCTIC & ICOMFORT BY SERTA COLLECTIONS FOR FURNITURE RETAILERS
Soft-Tex will showcase new collections of top of bed accessories as part of its partnership with Serta Simmons Bedding. Products in the Serta Arctic collection will be infused with Soft-Tex's industry-leading REACTEX climate control technology while the iComfort by Serta collection will feature Soft-Tex's Cool Coat cooling technology. Both launches for Las Vegas Market include furniture retailer exclusive SKUs across memory foam and fiber pillows, mattress protectors, mattress pads, and accessories. Both lines will be MAP priced in accordance with Serta Simmons Bedding's global brand strategy.
"We're excited to partner with Serta Simmons Bedding to commercialize exciting new bedding accessories featuring the latest technological innovations in the industry with our REACTEX and Cool Coat infusions. Both product lines offer beautiful packaging and well-merchandised offerings for retailers and are a must see for any retailer, especially those carrying Serta programming," said Chris Marsh, Soft-Tex Chief Sales and Marketing Officer.
NEW DREAMSMART TOP OF BED ASSORTMENT
Soft-Tex's DreamSmart assortment of mattress protection systems, luxury pillows, sheets, and accessories has been completely reimagined with updated packaging and features for 2021 featuring new launches including products featuring with Ultra-Fresh antimicrobial treatments, patent-pending skirting, 4-way stretch encasements, complete top of bed kits, and more.
Soft-Tex is offering both in-person and virtual showroom tours this market. To make an appointment, contact John Timmerman, vice president for Furniture Sales at jtimmerman@soft-tex.com.
About Soft-Tex International
Soft-Tex International is an innovation company focused on building the most comfortable products to help the world sleep and live better. With hundreds of patents, patents pending, and trademarks, Soft-Tex is the leading choice for retailers looking to offer a differentiated, well-merchandised assortment of bedding and home comfort products with the latest features and benefits.