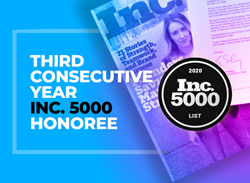 Softeq continues to lead the industry in the area of connected devices and our unique ability to deliver advanced IoT hardware and firmware solutions sets us apart as a software developer," says Christopher A. Howard, Softeq Development Corporation Founder and CEO
HOUSTON (PRWEB) August 12, 2020
Softeq Development Corporation has been recognized by Inc. magazine for the third year in a row as one of the 5000 fastest-growing private companies in America. Between 2016 and 2019, Softeq achieved a growth rate of 148.5% and ranks number 2721 among the honorees. The company's growth strategy focuses on serving large enterprise technology companies and innovative startups and has allowed Softeq to accelerate revenue while at the same time narrowing the breadth of its high-quality client portfolio. Softeq provides software and hardware engineering services to a global client base through offices in Houston, Texas, Munich, Germany, and Minsk, Belarus.
"I'm thrilled that Softeq has been named to the list of fastest-growing companies for three consecutive years. Our continued focus on the highest growth technology segments is paying off and we're pacing ahead of many tech industry growth rates. Softeq continues to lead the industry in the area of connected devices and our unique ability to deliver advanced IoT hardware and firmware solutions sets us apart as a software developer," says Christopher A. Howard, Softeq Development Corporation Founder and CEO.
Softeq is focused on the Internet of Things, embedded systems, electronic hardware, mobile applications, desktop applications, cloud backends, artificial intelligence, and machine learning. Key industries served by the company include Consumer Electronics, Telecommunications, Healthcare, Automotive, Oil & Gas, and Industrial Automation.
Results
The 2020 Inc. 5000 list as a whole posted a three-year average growth of more than 500% and a median rate of 165%. Aggregate revenue was $209 billion in 2019, accounting for 1,000,000 jobs over the past three years. The Inc. 5000 list is presented as an online interactive database, where companies can be filtered by industry, location, and other criteria.
Inc. 5000 Methodology
To qualify for the 2020 Inc. 5000 list, companies had to meet each of the following criteria:
● A US-based, privately-held, for-profit, and independent business
● Has been generating revenue since March 31, 2016
● Generated no less than $100,000 in revenue in 2016, and no less than $2,000,000 in 2019
Contact
For additional information about Softeq Development Corporation contact:
Terry Marshall, US Regional Marketing Manager
281-552-5030
terry.marshall@softeq.com
About Softeq Development Corporation
Founded in 1997 in Houston, TX, Softeq Development Corporation provides technical solutions to enterprise technology companies and innovative startups. As a full-stack software and hardware development service provider, Softeq bridges technology gaps in knowledge-intensive projects and builds end-to-end IT solutions from the ground up. To help clients make the transition from analog to digital, the company provides expertise in a variety of trending technologies including the Internet of Things, Artificial Intelligence and Machine Learning, Industrial Automation, Robotics, Blockchain, and AR/VR. The company designs IT systems and connected devices for increased security and scalability. Softeq customers include Verizon, Epson, Microsoft, Lenovo, AMD, Disney, Intel, NVIDIA, and others. Learn more at softeq.com.
About Inc. Media
The world's most trusted business-media brand, Inc. offers entrepreneurs the knowledge, tools, connections, and community to build great companies. Its award-winning multiplatform content reaches more than 50 million people each month across a variety of channels including websites, newsletters, social media, podcasts, and print. Its prestigious Inc. 5000 list, produced every year since 1982, analyzes company data to recognize the fastest-growing privately held businesses in the United States. The global recognition that comes with inclusion in the Inc. 5000 allows the founders of the best businesses to engage with an exclusive community of their peers and the credibility that helps them drive sales and recruit talent. For more information, visit http://www.inc.com.