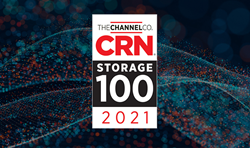 LONDON (PRWEB) April 12, 2021
SoftIron Ltd., the leader in purpose-built and performance-optimized data center solutions, today announced that CRN®, a brand of The Channel Company, has named SoftIron to its second annual Storage 100 list in the Software-defined segment. The Storage 100 list recognizes industry-leading storage vendors that provide transformative products and services.
Businesses are creating and consuming more data than ever before. With growing trends such as cloud computing, artificial intelligence, machine learning and the Internet of Things driving the creation of more and more data, the need for technology on which to build versatile and durable storage solutions will continue to increase.
Chosen by a panel of respected CRN® editors, the companies included in the 2021 Storage 100 list were selected for their perseverance in pushing the boundaries of innovation through cutting-edge technology and strategic partnerships. The list itself is a valuable resource for solution providers looking to find vendors that can support them in a complex storage market with industry-leading storage offerings in areas such as software-defined storage (SDS), data protection, data management, and storage components.
SoftIron's award-winning enterprise storage solution, HyperDrive® is purpose-built to optimize Ceph, the leading unified, open-source, SDS platform. Rather than the traditional method of using commodity hardware (and then optimizing the software to eliminate bottlenecks), HyperDrive appliances are uniquely "task-specific": engineered from the ground up to deliver optimal Ceph performance, delivering both to users and channel partners all the benefits of open source, but a familiar enterprise-class storage experience.
This design and manufacturing approach delivers unparalleled performance, efficiency and control, whilst also providing peace-of-mind through integrity and transparency of product realization through SoftIron's own component-level manufacturing capability. HyperDrive appliances are being increasingly used in enterprise and edge data centers by organizations across the spectrum, including military, financial, commercial, healthcare, and more.
"Open source is becoming pervasive in today's data infrastructure, but channel partners have told us how challenging it is to deliver consistent, resilient and performant enterprise class solutions based on generic bare metal" said Phil Crocker, VP Business Development & Channel at SoftIron. "Because HyperDrive is engineered from the source code on up to optimize Ceph – a method which we call 'task-specific' - we enable them to provide their customers with the best of both worlds: all the power, scalability and flexibility of open source, but with a supported, enterprise-class experience and no vendor lock-in. The result is a powerful, hyper-efficient storage infrastructure that delivers advantages in performance, TCO, for their customers and for partners a unique and powerful point of differentiation."
"The 2021 CRN® Storage 100 list recognizes the leading vendors that are delivering transformative advancements in storage technology and bringing the building blocks of modern solutions to solution providers," said Blaine Raddon, CEO of The Channel Company. "We are proud to acknowledge the vendors featured in this year's Storage 100 list and congratulate them for their investments in R&D, engineering, and innovation."
The CRN® Storage 100 list will be featured in the April 2021 issue of CRN® Magazine and online at http://www.crn.com/storage100.
About SoftIron®
SoftIron® is the world-leader in task-specific appliances for scale-out data center solutions. Their superior, purpose-built hardware is designed, developed, and assembled in California, and they are the only manufacturer to offer auditable provenance. SoftIron's HyperDrive® software-defined enterprise storage portfolio runs at wire-speed and is custom-designed to optimize Ceph. HyperSwitch™ is their line of next-generation, top-of-rack switches built to maximize the performance and flexibility of SONiC. HyperCast™ is their high-density, concurrent 4K transcoding solution for multi-screen, multi-format delivery. SoftIron unlocks more excellent business value for enterprises by delivering best-in-class products, free from software and hardware lock-in. For more information, visit http://www.SoftIron.com.