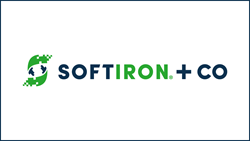 The results of SoftIron's unique 'designed, not assembled' approach to manufacturing enterprise data center solutions is a highly integrated, truly differentiated offering that tackles the needs of the perpetually-scaling data center" said Phil Crocker, VP Business Development and Channel, SoftIron
LONDON (PRWEB) April 14, 2021
SoftIron Ltd., the leader in purpose-built and performance-optimized data center solutions, today announced the launch of its global channel partner program, SoftIron + Co. The new program aims to build an elite, world-class community of profitable, successful channel partners to accelerate SoftIron's market share growth through unique business value that expand reseller capabilities and offerings.
The SoftIron + Co. program will give channel partners the ability to differentiate themselves by expanding their access to SoftIron's fully integrated, open source-based data center solutions and services. SoftIron resellers will be able to offer powerful, open source technology, such as Ceph, in hardware packages uniquely built through a task-specific approach that enables levels of performance and efficiency that isn't common with commodity hardware.
"The results of SoftIron's unique 'designed, not assembled' approach to manufacturing enterprise data center solutions, is a highly integrated, truly differentiated offering that tackles the needs of the perpetually-scaling data center," said Phil Crocker, VP Business Development and Channel at SoftIron. "As organizations grapple with the challenges of scaling their IT operations, they become even more interested in open source solutions that eliminate vendor lock-in and give them more control. SoftIron's partners will be able to capitalize on the growing opportunity created by the rise in demand for supported, enterprise-class open source technologies like Ceph. By partnering with SoftIron in 2021, partners will be putting themselves in the best position possible to inherit success."
SoftIron, known for its HyperDrive® software-defined storage portfolio, distinguishes itself by offering appliances that are task-specific, meaning they are hardware-optimized around their open source cores, such as Ceph. Rather than the traditional method of using commodity, off-the-shelf hardware and optimizing the software to try to eliminate bottlenecks, SoftIron has designed the hardware around the needs of the operating source code, delivering unparalleled performance, control and support. SoftIron offers its customers peace of mind through a unique "Secure Provenance" manufacturing approach, assuring integrity and transparency of product realization through its own component-level manufacturing capability.
"As open-source architectures for data-centric computing increasingly takes center-stage, it's refreshing to see SoftIron take full ownership for delivering task-specific Ceph storage appliances that are purpose-built for enterprise scale-out storage," says Earl J. Dodd HPC & HPDA Architect, Alchemist and Business Practice Leader at World Wide Technology. "Government agencies, including the US armed forces, appreciate the reliability, manageability and low-energy consumption of HyperDrive, backed with a unique Secure Provenance guarantee. We are delighted to partner with SoftIron to help the United States Air Force leverage the power of HyperDrive for critical analysis of aircraft mission data. With the advent of SoftIron + Co, we're looking forward to future engagements."
"After a rigorous review of storage options in the market, we elected to get in touch with SoftIron, since we feel the market needs to move away from the monolithic approaches of old," said Tim Sterckx, Partner and Co-founder of Belgium-based reseller Aryx. "Their channel team has been exceptionally responsive. We feel we are building something pretty special and differentiated together as we launch our company and they launch SoftIron + Co. After a short few weeks, we're already partnering in some interesting engagements in the Benelux and planning co-marketing campaigns together. We're closely aligned in our approach and our mutual momentum is already building."
"Megware has been in the business of successfully providing HPC solutions and Linux clusters to research institutes, universities, and industrial and commercial customers throughout Europe for over 30 years. With open-source platforms now commonplace within the data center, it's exciting for us to be partnering with SoftIron as they launch their new partner program," said Tobias Pfennig, Sales Director HPC at MEGWARE Computer Vertrieb und Service GmbH. "It's really great to see the innovation they are bringing to customers, especially in the era of Green IT when total cost of ownership is a large consideration. We see a lot of opportunity to partner together and offer something really differentiated to our customers. We are particularly impressed that they have recently established a Berlin-based manufacturing facility to serve our mutual customers across Europe."
"We have a unique and strategic partnership with SoftIron," said Raj Krishnan Director of UpCenter Technologies. "We provide managed services for an eclectic group of customers across Asia and North America - from Malaysia to India and the US. We are both a customer and a reseller of SoftIron appliances, having identified how well they fit with the challenges we face in the region to deliver highly performant, resilient, yet efficient solutions. Our relationship is a close one already and we see significant benefits being provided under the auspices of their new SoftIron + Co partner program as we pursue our mutual customers."
For more information about the SoftIron + Co. partner program, please visit: http://www.softiron.com/partners
About SoftIron®
SoftIron® is the world-leader in task-specific appliances for scale-out data center solutions. Their superior, purpose-built hardware is designed, developed, and assembled in California, and they are the only manufacturer to offer auditable provenance. SoftIron's HyperDrive® software-defined enterprise storage portfolio runs at wire-speed and is custom-designed to optimize Ceph. HyperSwitch™ is their line of next-generation, top-of-rack switches built to maximize the performance and flexibility of SONiC. HyperCast™ is their high-density, concurrent 4K transcoding solution for multi-screen, multi-format delivery. SoftIron unlocks more excellent business value for enterprises by delivering best-in-class products, free from software and hardware lock-in. For more information, visit http://www.SoftIron.com