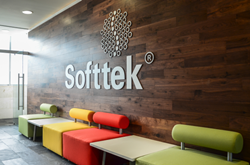 "As leading figures in the field of high-tech solutions globally has allowed us to create opportunities not only for Softtek, but for dozens of other companies in Mexico and Latin America, as well as for the professional development of our Softtekians." _Blanca Treviño, president & CEO of Softtek
DALLAS (PRWEB) December 05, 2022
Softtek, a global company dedicated to helping organizations evolve through digital technology, celebrates its 40th anniversary. Since its foundation in 1982, Softtek has positioned itself as one of the best options for advanced IT services aimed at accelerating the growth and digital evolution of businesses in different industries, also making it an excellent alternative for the professional development of its people.
"We touch the lives of millions of people who can access banking or health services through 100% digital channels; buy a plane ticket from their mobile devices and arrive safely and on time at their destination; obtain the best price at the supermarket through eCommerce tools and state-of-the-art data; have countless online entertainment options; experience the triumph of their favorite sports teams more closely in an environment that combines the physical experience with the virtual. All this is thanks to the opportunity that our clients give us to innovate together, and the trust that our people place in the organization," stated Blanca Treviño, president & CEO of Softtek.
With a presence in 20 countries and more than 15,000 employees, Softtek's clients include many of the largest and most successful organizations worldwide in the financial, insurance, entertainment, technology, commerce, industrial, transportation, energy, CPG and governmental sectors.
This year also marks the 25th anniversary of Softtek's creation and launch of the Nearshore service offering, a model based on exporting professional technology services from a country close or adjacent to others where talent may be more expensive or insufficient.
"Nearshore has been a service model that put Mexico on the information technology map," added Treviño. "As leading figures in the field of high-tech solutions globally has allowed us to create opportunities not only for Softtek, but for dozens of other companies in Mexico and Latin America, as well as for the professional development of our Softtekians."
Softtek began as an entrepreneurial effort in Monterrey, Mexico, where it maintains its corporate offices, and has remained a private company, in which most of the shareholders still work for the organization. Throughout its history it has maintained continuous growth and in recent years it has executed ambitious expansion plans in Europe, through the acquisition of Vector ITC in 2019 and the partnership with Real Madrid. Likewise, the company continues to work on the continued expansion of global delivery capabilities through the opening of a new service delivery center in Colombia, the expansion of operations in India and the opening of new offices in Mexico City and Mérida during the present. year.
Softtek has been frequently recognized by industry analyst firms. In 2022 these recognitions include Forrester's Leader in Modern Application Development and Everest's "Major Contender" in Multi-Cloud Application Development.
Throughout its history, Softtek has always been concerned with developing in a socially responsible manner, developing programs such as Codellege, which promotes programming as an educational path and labor inclusion for young people and adults in situations of economic or social vulnerability. Another of its initiatives, called Transcend, promotes a culture of diversity, environmental conservation, inclusion and zero tolerance for discrimination.
In its 40-year history, Softtek has become a global benchmark for entrepreneurship, global services, innovation and digital transformation. These pillars continue to support its vision to help clients and employees in building a future together.
About Softtek:
Founded in 1982 by a small group of entrepreneurs, Softtek started out in Mexico providing local IT services, and today is a global leader in next-generation digital solutions. The first company to introduce the Nearshore model, Softtek helps Global 2000 organizations build their digital capabilities constantly and seamlessly, from ideation and development to execution and evolution. Its entrepreneurial drive spans 20+ countries and more than 15,000 talented professionals. Learn how Softtek creates value through technology at http://www.softtek.com and connect with @Softtek in social media.