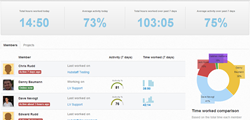 "Once you have found the talent, Hubstaff helps you manage and pay them and is proven to boost their productivity." - Dave Nevogt, Co-Founder
Indianapolis, IN (PRWEB) August 06, 2013
Hubstaff is poised to shake up the online staffing, outsourcing, and recruitment industries with its advanced time tracking software with screenshots and activity levels. The platform provides remote team management for a flat per-user fee. "Once you have found the talent, Hubstaff helps you manage and pay them and is proven to boost their productivity," says Hubstaff co-founder Dave Nevogt.
Hubstaff monitors productivity through several mechanisms including screenshots and computer activity tracking. It also provides reporting, invoicing, and timesheets and will soon integrate with many popular 3rd party apps like Basecamp, Jira, Freshbooks, and Harvest.
Hubstaff consists of an online application and desktop based time tracking and monitoring tools for each worker. "As a software engineer, I have managed many virtual teams of developers. We built Hubstaff to remove the hassle and worry from managing remote workers," says Jared Brown, co-founder and CTO of Hubstaff. Workers install a small app on their desktop that allows them to pick what project they are working on and monitors their productivity levels.
Projects are unlimited in Hubstaff and user licenses can float, or be moved from one worker to another at an organization. Hubstaff was designed with international workers in mind and handles periodic internet connections and multiple timezones.
Aside from launching Hubstaff, Nevogt also published a book, "No Excuses: The Definitive Guide to Building a Remote Team." The book is available electronically for free at http://blog.hubstaff.com/remote-team-management/. "I created Hubstaff and wrote this book based on my experience managing over 100 remote workers for my previous startups," says Nevogt. "Managers need a simple solution like Hubstaff, and they also need resources to understand how to manage remote workers. It's a learned skill." The book is the first part of Hubstaff University, a resource for remote managers.
Hubstaff is fully compatible with Windows, Mac, and Linux and has been tested on several thousand machines to date.
Hubstaff is publicly available at https://hubstaff.com and includes a free forever account for three users. Paid plans start at $24 per month for up to 5 users. There is also a referral program where organizations can earn a free account similar to Dropbox's program.