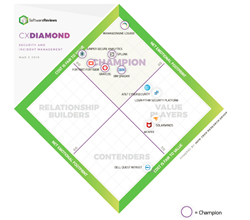 TORONTO (PRWEB) March 19, 2019
The Software Reviews Customer Experience Award rankings are scored using our "Net Emotional Footprint" index, which tracks responses across 26 emotional response areas that span 5 categories: Purchasing, Service Experience, Product Impact, Vendor Strategy, and Conflict Resolution.
Security Information and Event management (SIEM) software allows companies to combine an assortment of security software components into one platform. SIEM software inspects the network and provides a real-time breakdown of security alerts related to both applications and hardware. This may include alerts on newly discovered malware and vulnerabilities, unauthorized access etc. SIEM store logs and records for retrospective reporting and planning enabled through functional and security investigation of the network. IT and security operations teams are empowered with shared security related information and warnings for pro-active and preventative security measures.
About Customer Experience Awards and Software Reports
The Software Reviews Customer Experience Awards evaluate and rank products based on emotional response ratings from IT and business professionals. Our scoring methodology aggregates these ratings across 26 dimensions of the vendor-client relationship and product effectiveness, creating a powerful indicator of overall user feeling toward the vendor and product.
Customer Experience Awards are proudly founded in 100% user review data and are free of traditional "magical" components such as market presence and analyst opinion, which are opaque in nature and may be influenced by vendor pressure, financial or otherwise.
About Software Reviews
Software Reviews is a division of Info-Tech Research Group Inc., a world-class IT research and consulting firm established in 1997. Having worked in the vendor space for two decades, Software Reviews is a leading source of expertise and insight into the enterprise software landscape and client-vendor relationships.
By collecting real data from IT and business professionals, Software Reviews' methodology produces the most detailed and authentic insights into the experience of evaluating and purchasing enterprise software.