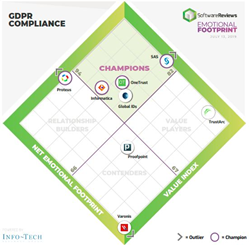 Toronto (PRWEB) July 24, 2019
SoftwareReviews, a division of world-class IT research and advisory firm Info-Tech Research Group Inc., has published its 2019 General Data Protection Regulation (GDPR) Compliance Emotional Footprint Awards, naming four gold medalists in the software space:
· SAS Personal Data Protection
· Proteus NextGen Data Privacy
· OneTrust Privacy Management Platform
· Informatica Data Governance & Compliance Solution for GDPR
The European Union's General Data Protection Regulation aims to protect individuals' personal data and brings with it significant penalties to companies who fail to comply, even those outside of the EU. GDPR compliance software vendors assist their customers across a variety of protocols including firewalls, encryption, digital communications, data backup and testing, accessing security and privacy by design.
"Many organizations struggle with the notion of a global data privacy regulation. Some question the enforceability of such a wide set of regulatory criteria, while many are concerned about their potential exposure and are unsure of where to start," said Aaron Shum, Director, Security, Risk & Compliance at Info-Tech Research Group. "It is important to understand that the GDPR is the first of many enhancements to worldwide data privacy standards. Other jurisdictions, such as the US, Canada and Australia are following GDPR with updates to their privacy regulations. With this unstoppable freight train of inevitable and improved data privacy baselines, the GDPR should be seen as a framework for an organization's data privacy efforts. Organizations should embrace GDPR's risk-based and pragmatic approach to data privacy," he added.
The indicators separating the Emotional Footprint Champions from others in the category are the exceptional scores in service experience, conflict resolution, negotiation and contract, strategy innovation and product impact. You can see all vendors on the Emotional Footprint diamond at https://www.softwarereviews.com/awards/emotional-footprint-awards-2019-gdpr-compliance
About the Emotional Footprint Awards and SoftwareReviews Reports
The SoftwareReviews Emotional Footprint Awards evaluate and rank products based on emotional response ratings from IT and business professionals. Our scoring methodology aggregates these ratings across 26 dimensions of the vendor-client relationship and product effectiveness, creating a powerful indicator of overall user feeling toward the vendor and product.
The Emotional Footprint Awards are proudly founded in 100% user review data and are free of traditional "magical" components such as market presence and analyst opinion, which are opaque in nature and may be influenced by vendor pressure, financial or otherwise.
About SoftwareReviews
SoftwareReviews is a division of Info-Tech Research Group Inc., a world-class IT research and advisory firm established in 1997. Backed by two decades of IT research and advisory experience, SoftwareReviews is a leading source of expertise and insight into the enterprise software landscape and client-vendor relationships.
By collecting real data from IT and business professionals, SoftwareReviews' methodology produces the most detailed and authentic insights into the experience of evaluating and purchasing enterprise software. Visit softwarereviews.com to see where vendors appear on data quadrants, on emotional footprint diamonds, and to access reports.