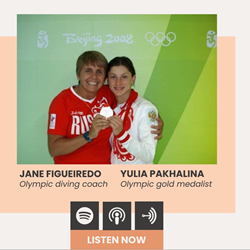 HOUSTON (PRWEB) August 26, 2020
Should coaches practice tough love? Jane Figueiredo, an olympic and world champion medal winning diving coach, would say yes. Across four athletes, she's coached for six Olympic medals—and every step of the way—she utilized tough love to create a track record of champions. As you'll learn in this can't-miss episode—in the pool and in the workplace—love should be part of your coaching strategy. Jane and one of her most decorated Olympians, Yulia Pakhalina discuss how tough love made all the difference and brought home the gold.
Each episode of Love as a Business Strategy busts the doors off topics that most business leaders shy away from in the workplace.
Through humor, heart, and honesty, Love as a Business Strategy arrives on the podcast scene at a tipping point of business and digital transformation amid the global COVID-19 pandemic. As practitioners, the hosts of Love as a Business Strategy talk about the golden triangle of business—people, process, and technology—from a lens of empathy, humanity, and love.
"Even though Yulia and Jane share their epic stories from a perspective of world-class athletics, business leaders will quickly see parallels to how coaching and training colleagues is no different in the workplace," Frank Danna, Director of Culture at Softway said. "Jane's unique style of coaching is not only approachable, but achievable—as long as leaders are willing to be vulnerable and practice tough love," he said.
This all-new episode, entitled "Love As a Coaching Strategy" is available now, for free on all major podcast platforms. Softway releases new episodes on Tuesdays.
###
Softway is a digital transformation agency in Houston, TX that humanizes technology, propels brands, and changes culture. The 200 person organization has offices in the USA and India. Visit softway.com for more details.
Yulia Pakhalina is an olympic champion diver. As a student athlete at the University of Houston, Yulia was named NCAA diver of the year twice, winning 64 of the 66 diving events she entered, with 5 NCAA national championships. As an olympic athlete, she's won five medals across 3 olympic games, including a Gold in the 3-meter synchronized event at the 2000 Sydney Games. She's also won three World Championships and eight European Championships.
Jane Figueiredo is an olympic and world champion medal winning diving coach. Across 4 athletes, she has coached for 6 olympic medals. An olympic diver herself, she represented Portugal in the 1984 olympics in Los Angeles. She's also a legend as a collegiate coach at the University of Houston, with 12 consecutive conference Diving Coach of the year honors, and four NCAA Diving Coach of the Year awards. In total, her divers won 8 NCAA titles and 51 All-American honors. Between being an athlete and coach, she has been to 6 different olympic games, and will be coaching for Great Britain at the 2020 Tokyo olympics.