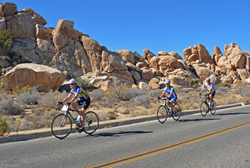 Burlington, VT (PRWEB) May 31, 2017
Sojourn Bicycling & Active Vacations will debut an exclusive combination of road biking and hiking tours in Joshua Tree National Park, Palm Springs, and Borrego Springs, California in late fall of 2017. This one-of-a-kind tour offers active travelers the perfect way to experience scenic and beautiful Southern California, and extend their outdoor season well into fall.
Sojourn's Joshua Tree & Palm Springs Tour is highlighted by full-day rides through otherworldly Joshua Tree National Park, and hikes through native palm oases and a striking canyon frequented by bighorn sheep. Boutique accommodations offer an array of amenities and relaxing settings in which to unwind, including an exclusive three-night stay at Palm Springs' most beautiful and seductive property. Evenings are highlighted by the top-rated dining in the region, candlelit landscapes, and extraordinary dark sky viewing of constellations.
Sojourn founder and president, Susan Rand, says, "The region offers the perfect combination of dramatic scenery, boutique accommodations, and exceptional cuisine. This trip is unique for the region, and our cycling routes and select hikes showcase the awe-inspiring natural beauty of this area of Southern California."
Expansive vistas and unusual rock formations deliver the perfect backdrop for an unforgettable vacation including four fabulous days of road cycling and two beautiful days of hiking in Southern California's most picturesque desert region. Sweeping views of surrounding peaks and opportunities to view elusive bighorn sheep in their natural environment highlight the scenery. Cycling options are appropriate for both intermediate and avid cyclists, and hikes are suitable for moderate fitness levels.
Trips include five nights of accommodations at intimate boutique hotels, including three evenings at exclusive Korakia Pensione, which has been called one of the sexiest hotels in America. Tucked in an upscale neighborhood just a short walk from the heart of Palm Springs, this chic yet relaxed property is a charming blend of Mediterranean and Moroccan architecture surrounded by tasteful gardens and swimming pools. Guests will dine at two of Palm Springs' most highly regarded restaurants during their stay here. After rave reviews following a prototype tour in late 2016, this tour has passed Sojourn's quality test for general sale.
About Sojourn Bicycling & Active Vacations
Sojourn specializes in deluxe bicycling and active vacations in the US and Canada. Known for exclusive itineraries and unmatched personalized service, the company has been designing and operating trips since 2004. Signature trips include Arizona's Sonoran Desert, Vermont to Quebec City, and the Lake Champlain Valley of Vermont.
For more information, contact Susan Rand at (802) 425-4771 or srand(at)GoSojourn(dot)com