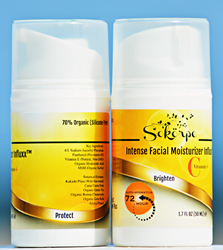 72 hours of non-stop hydration, even after washing the face.
MIAMI (PRWEB) November 17, 2020
Sokörpe® the groundbreaking - genuinely natural - skincare line that combines innovative science with botanical wisdom introduced two new products into the marketplace.
The highly anticipated Vitamin C Intense Facial Moisturizer, branded Influxx™, is a nature-inspired biomimetic synergistic complex with organic hyaluronic acid that improves the skin barrier recovery of dry skin with 72-hour Auto-Hydrator™ technology. The activated, organic Aloe Vera juice, witch hazel extract, provitamin B5, non-GMO vitamin E, MSM and a complex of NMF, humectants and penetration enhancer, maintain and restore the water content in the epidermis by moisturizing and providing suppleness to the skin for plump, glowing and radiant skin.
Active ingredient, Hydroviton® Plus, is clinically proven to provide powerful moisturizing efficacy and enhances skin firmness and the skin elasticity.
The other active ingredient, sodium ascorbyl phosphate is a stable form of vitamin C that functions as an antioxidant and is effective for brightening an uneven skin tone. This form of vitamin C may also be an effective adjunct to anti-acne products.
Influxx™ provides continuous, non-stop hydration for up to 72 hours, even after washing the face.
Sokörpe® also released its 20% 3-o-ethylated ascorbic acid solution with propanediol and ferulic acid branded Super Boost™. This highly stable and potent clinical vitamin C formulation has only three ingredients.
Sokörpe's® Super Boost™ vitamin C will instantly firm, brighten and even out skin tone. Unlike many vitamin C derivatives, this ethylated form acts directly like vitamin C, is closer in molecular weight to actual vitamin C, which allows for faster visible results, and offers a much better stability profile than any known direct-acting form of vitamin C.
Super Boost™ serves as a potent anti-aging active that boosts collagen synthesis and prevents skin from DNA damage. New clinical findings prove that Sokörpe's Super Boost™ 3-O-Ethyl Ascorbic Acid can protect the skin from UVB damage measured by skin redness.
About Sokörpe®
Sokörpe's® skincare products are truly revolutionary, pure, potent, and proven to work. Filled with natural, organic compounds, Sokörpe's® skin and body products achieve unparalleled results without any toxins. No other commercially produced product comes even close to the quality and care placed into Sokörpe's® line of skincare products.
Sokörpe's® serums, formulations, creams, and ointments are the result of continuous plant-based science with renowned phytologists, constantly improving formulations by discovering and incorporating new, premium botanicals and medicinals.
Sokörpe's® skincare products are cruelty-free and vegan. The products are also free of fragrances - unless otherwise specifically noted.
Sokörpe® is headquartered in the greater Miami metropolitan area.