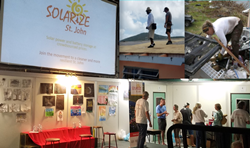 "We have an opportunity to fundamentally change the cost of renewable energy for all while directly helping others who may never have another way to significantly and permanently lower their energy costs." Lead donor Brad Camrud.
ST. JOHN, U.S. Virgin Islands (PRWEB) May 16, 2019
The organizers of Solarize St. John have launched a first-of-its-kind crowdfunding campaign to help tackle the high energy burden for low-income families and non-profits on St. John by reducing the cost of solar energy on the island.
A donation of $100,000 has already been made to seed the Solarize St. John initiative in 2019, offering discounts for solar installations for all St. Johnians as well as support for a local non-profit foundation. Now the Solarize initiative is fostering a philanthropic program for those who cannot afford solar energy otherwise and to assist non-profits in administering new solar installations serving the community.
Donations made by the public toward the initiative will go toward local non-profit organizations to identify and administer solar- and battery power-related projects within the island.
Many full-time residents, local service organizations and local laborers who help make St. John a premier Caribbean destination and place to live suffer from extremely high electricity costs. This ongoing burden makes living, working on and serving the needs of St. John expensive and sometimes cost-prohibitive.
Too often, low-income families experience a high electricity burden but cannot afford the upfront cost of solar power. Public programs that help support low-income families to join the solar movement are lacking or non-existent.
To remedy this, Solarize St. John kicked off a crowdfunding campaign in April aimed at raising funds to buy down the cost of solar for low-income families as well as support solar-specific projects of non-profit organizations on St. John. Crowdfund St. John is part of Solarize St. John, an effort to expand solar access to all property and business owners on the island.
"At the beginning of 2019, Solarize St. John set forth a structure for lowering solar and battery costs to all participants -- regardless of their means. We can accomplish this via bulk purchasing power, offering discounts and closely coordinating with local installers to reduce the expense of solar through higher volume of orders than would occur otherwise," said Ken Haldin, a volunteer organizer for the Solarize St. John campaign.
Energy burden, energy insecurity and energy poverty are among the terms used to describe an ongoing problem in the United States and U.S. Territories. The average amount of household income spent on electricity is 2.5 percent. In the USVI, however, average household income is lower than on the mainland while the cost of electricity can be up to four times higher. This means low-income families in the USVI are spending much more of their annual income on electricity than the national average and, therefore, have an electricity burden almost twice of that on the mainland.
The most vulnerable residents on St. John had to rebuild or recover their damaged homes after Hurricane Irma. Up to 74 percent of low and middle-income residential structures on St. John were damaged, according to one local non-profit organization serving vulnerable residents via a program to help rebuild dozens of homes.
"I want to see solar installation promoted as broadly as possible on St. John. This includes both low- and moderate-income homes, businesses and non-profits," said lead donor Brad Camrud, a part-time St. John resident and long-time user and supporter of solar energy on the island. "We have an opportunity to fundamentally change the cost of renewable energy for all while directly helping others who may never have another way to significantly and permanently lower their energy costs."
Funds provided by individuals via crowdfunding as well as any contributions made by organizations, foundations or other donors will be administered through local non-profit organizations with a focus on supporting increased solar infrastructure on the island. Solarize St. John is already working with the non-profit Island Green Living Association, a 501(c)(3) nonprofit organization, to administer discounts for those signing residential and commercial solar energy contracts.
To donate or for more information, visit: https://www.solarcrowdsource.com/projects/st-john-crowdfunding/
About Solarize St. John:
Solarize St. John is a comprehensive grassroots initiative to strategically expand the penetration and breadth of solar and battery installations across all property types and demographic profiles on the island. Solarize St. John launched in January of 2019 and works in support of Island Green Living initiatives via Solar Crowdsource. Solarize is a national movement that started in Portland, Ore., in 2009, and Solarize St. John is the first such program in the USVI. Solarize programs are designed to make going solar more affordable and straightforward for a short campaign period in defined communities that adopt the program.