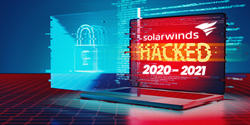 The SolarWinds breach is an evolving security problem that is making headlines due to its far-reaching implications on government security and the utility grid in the United States.
DALLAS (PRWEB) January 20, 2021
Data breaches cost companies millions of dollars a year, with an average cost of $8.19M per breach per company. As security measures get stronger, hackers are getting smarter and attacking associated services from cloud service and managed service providers to get even more data and more victims. We believe that this will be equally as true in the wake of the recent SolarWinds hack.
With the COVID-19 pandemic still going strong at the end of 2020, retailers in various industries are already feeling the pressure of increasing eCommerce transactions and friendly fraud incidents. With the breaking news of the SolarWinds security breach, these retailers are now facing a potential "second wave" of chargebacks.
SolarWinds Security Breach Summary
The SolarWinds breach is an evolving security problem that is making headlines due to its far-reaching implications on government security and the utility grid in the United States. Alongside these issues, however, is the fact that some of the hardest-hit organizations are businesses like Equifax, Visa, and Microsoft—that is, companies with significant control over sensitive customer information.
Initially reported by security firm FireEye, who were themselves victims, the SolarWinds breach was a state-sponsored attack on the Orion network infrastructure management platform. This platform helped organizations better manage their network assets, and powered federal agencies, public institutions, and private businesses alike.
All in all, it's possible that the breach has affected up to 18,000 SolarWinds customers.
Those Most Impacted by the SolarWinds Breach
As a state-sponsored attack, the cross-section of affected organizations is rather broad, but includes entities like:

Utility companies delivering oil, water, natural gas, and electricity.
Government agencies like the U.S. Treasury, Department of Homeland Security, and the Pentagon.
Technology retailers like Microsoft and Intel.
Financial companies like Equifax, Visa, and Mastercard.
The complete scale of the breach is still unknown, and security experts are suggesting that several major systems may still be exposed to the malware that fueled the breach.
What Does the Attack Mean for Retailers?
Customers using SolarWinds technology have an obligation to secure their systems and adhere to compliance demands in their industry.
Other retailers will want to prepare for a new wave of fraud cases and chargebacks. In our opinion, based on the evidence of the hack and the history of breaches in the U.S., it is likely that this event will have significant fallout for retailers.
As a potential wave of fraud and chargebacks emerge, it's important that merchants follow through with some best practices:
1. Adopt and implement critical fraud prevention measures like Address Verification Services or 3-D Secure 2.0.
2. Stay compliant with industry regulations. At minimum, ensure that your POS systems and people are up to date with PCI DSS compliance, and that you meet or exceed security standards for encrypting data in storage or in transit.
3. Work with chargeback representment companies to support your alert systems, fraud prevention efforts, and customer retention efforts.
Learn More About the Solar Winds Hack >>>
There is much more to this breach than we've covered here. We cover in-depth some of our understanding of the problem and your potential solutions to keep your data safe and secure.
Read through our latest coverage to learn more about the SolarWinds hack and how it could potentially affect retailers over the next few months, and how you can prepare with solid chargeback prevention measures.
Chargeback Gurus is a leader in chargeback recovery, having worked on researching, addressing, and preventing credit card fraud for 16+ years. We have worked on millions of chargeback and fraud cases for businesses across the U.S. To help improve our merchant chargeback recovery rates increase by over 70% and their prevention rates increase by up to 50%. Contact us to learn how we can start you down a path of reducing chargebacks, preventing chargeback fraud, and giving you critical insights into your customers to maximize retention and ROI. Visit: https://www.chargebackgurus.com