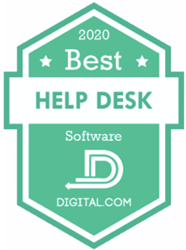 SEATTLE (PRWEB) June 13, 2020
Digital.com, a leading independent review website for small business online tools, products and services, has named SolarWinds Service Desk to its list of best help desk software solutions for 2020. The guide features 20 top solutions based on customer feedback, pricing, and plan options.
According to Digital.com, help desk software is ideal for small businesses – that typically can not afford a dedicated customer service team – to resolve technical issues quickly and keep employees productive. Experts for the website evaluated several solutions with capabilities such as a self-service portal to start requests, a ticketing system for teams to sort and prioritize requests, social media integrations and more. SolarWinds Service Desk and other software options selected for the final list, all offer affordable pricing and platforms that can be customized to meet the needs of each business.
"By automating processes and streamlining engagement with the IT service desk, we enable small businesses to empower their IT technicians to do their job efficiently and better support employees across the organization with their technical needs," said Steve Stover, VP of products and strategy at SolarWinds Service Desk. "We strive to give IT pros affordable tools that allow them to focus on big picture work through a platform that helps them prioritize ticket requests and communicate self-service resources to employees. We're honored to be recognized as a top help desk solution and are excited about the innovations to come."
Digital.com developed this guide to help small businesses and startups make informed decisions about customer service solutions. To access the complete list of top help desk software systems, please visit https://digital.com/blog/help-desk-software/.
ABOUT SOLARWINDS
SolarWinds is a leading provider of powerful and affordable IT management software. Our products give organizations worldwide—regardless of type, size, or complexity—the power to monitor and manage their IT services, infrastructures, and applications; whether on-premises, in the cloud, or via hybrid models. We continuously engage with technology professionals—IT service and operations professionals, DevOps professionals, and managed services providers (MSPs)—to understand the challenges they face in maintaining high-performing and highly available IT infrastructures and applications. The insights we gain from them, in places like our THWACK community, allow us to solve well-understood IT management challenges in the ways technology professionals want them solved. Our focus on the user and commitment to excellence in end-to-end hybrid IT management has established SolarWinds as a worldwide leader in solutions for network and IT service management, application performance, and managed services. Learn more today at http://www.solarwinds.com.
ABOUT DIGITAL.COM
Digital.com reviews and compares the best products, services, and software for running or growing a small business website or online shop. The platform collects twitter comments and uses sentiment analysis to score companies and their products. Digital.com was founded in 2015 and formerly known as Review Squirrel. To learn more, visit https://digital.com/.