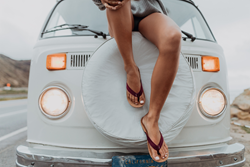 SOLE's scientists have developed a way to make recycled cork flexible, cushioning and durable in a way previously thought impossible.
VANCOUVER, British Columbia (PRWEB) January 29, 2019
Canadian footwear manufacturer SOLE™️ is set to offer consumers eco-conscious choices across the board in their new, expanded spring sandals line, as they build momentum toward the launch of groundbreaking eco-friendly footwear in the fall.
SOLE is known and loved for the signature dynamic support of their orthopedic insoles and footwear, offering pain relief and fighting fatigue in millions of satisfied customers. Improving people's lives has always been the top priority for the company, alongside protecting the planet we call home.
SOLE's much loved supportive sandals, previously available in a choice between ReCORK™️ recycled cork and regular EVA foam, are getting a green upgrade in spring 2019. This year all styles will feature an eco-friendly footbed. All EVA styles will have an algae-based Bloom Foam footbed in place of the regular EVA. BLOOM uses algae from harmful blooms to produce a foam that performs better than petroleum-based synthetics, with 40% less impact on the environment, while returning natural balance to ecosystems.
Not to be outdone, SOLE's recycled cork flips will also be getting an upgrade. This year, they'll be made with ReCORK's revolutionary new formula. SOLE's scientists have developed a way to make cork flexible, cushioning and durable in a way previously thought impossible. The ReCORK footbed is just as sustainable as ever, made from recycled wine corks collected with the help of thousands of recycling partners across North America. By removing corks from the waste stream ReCORK can replace harmful petroleum-based materials with a beautiful, natural, incredibly sustainable resource.
The new line of flips will combine old favourites with new additions in 12 styles, boasting varying profiles and new strap materials for all-over comfort and versatility. While some aspects will vary, one thing will remain constant: all styles boast SOLE's signature shape, proven to reduce pain and maximize comfort. Your feet aren't flat, and your flips shouldn't be either.
Spring/Summer 2019 footwear will retail from $55 USD / $65 CAD with drops beginning in March on yoursole.com.
Fall/Winter 2019 footwear collections.
The added emphasis on sustainability comes as SOLE prepares to launch their groundbreaking new footwear in Fall 2019. The line will include 12 styles that prioritize sustainability without compromising on quality, comfort, style, or the company's signature support.
Of the 12 styles, six will boast SOLE's new Eco tag, a commitment from the company to the customer. If it's called Eco you can rest assured that it's made from recycled, sustainable or ethically-sourced materials from tongue to tread.
At the heart of the new line is SOLE's new ReCORK™️ Recycled Cork Midsole, made from ReCORK's revolutionary new cork formula. This midsole will provide all the flex, cushioning and durability of petrochemical-based foams, with a tiny fraction of the environmental costs.
Other Eco materials include ethically-sourced Merino wool, Bloom Foam, natural rubber and rice rubber in a combination that puts the planet first while still providing total comfort, durability and versatile style.
The SOLE x UBB Jasper Wool Eco Chukka will be the first of the new line available to the public through a Kickstarter campaign, launching in collaboration with apparel producers United By Blue on February 15. The shoe will include United By Blue's award-winning BisonShield™️ insulation in its baffled merino upper. BisonShield utilizes natural, sustainable hollow-fibre bison hair that would otherwise be sent to landfills as a waste product of the leather industry.
These earth-friendly Chukkas will go to early bird Kickstarter backers for as little as $95 a piece, and will retail for $150. To learn more about this collaboration please go to yoursole.com/unitedbyblue.
About SOLE.
SOLE is a Canadian footwear brand, founded in Vancouver in 2001. Our mission is to help people live active, pain-free lives while having the least possible impact on the planet. Our award-winning footbeds are the consumer's choice for supportive insoles, reducing pain and fatigue in the feet of millions. Building on the success of our footbeds, we launched into footwear that is great for your feet and gentle on the earth. We strongly believe that we have a responsibility to consider the impact our actions have on the environment, which is why we're blazing a trail for sustainability in footwear. From product design and development, to material sourcing and creation, we are committed to providing quality and comfort that doesn't come at the cost of the planet. In 2008, we launched our cork recycling initiative ReCORK, which takes natural wine corks and turns them into a carbon-negative raw material that replaces petroleum-based foams and plastics in consumer products. We've recycled 100 million corks to date, and we are just getting started. Learn more about what we do and how we do it at yoursole.com.