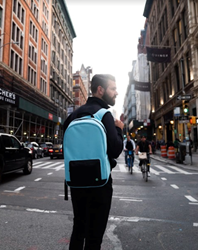 Being an explorer at heart means you care about discovering the planet, therefore you must care about its longevity.
NEW YORK (PRWEB) October 23, 2018
Today, Solgaard introduces the first product in their newest line of backpacks, made from recovered ocean plastics. Daypack is the world's first laptop backpack manufactured with recycled plastics found in ocean. Each backpack preserves ocean life and keeps the planet clean – removing 5 lbs of ocean trash for each bag made. The first batch of plastic is being collected from the Maldives, with their secondary cleanups to take place in the Philippines – the third worst country in ocean-bound plastic pollution. Like its predecessors, Lifepack and The Hustle Collection, today, the Daypack is launching on Kickstarter in the hopes of raising $25,000 to move closer towards its manufacturing phase.
Oceans and sea life are currently considered to be in a global crisis due to the excessive waste and littering of plastic products. According to oceanconservancy.com, "Every year, 8 million metric tons of plastic enter our ocean, on top of the estimated 150 million metric tons that currently circulate our marine environments, whether by errant plastic bags or plastic straws winding their way into gutters, or large amounts of mismanaged plastic waste streaming from rapidly growing economies." Broken down – that's 30,000lbs per minute. The team behind Solgaard Design developed their Ocean Series products with one goal in mind: to create eco-friendly products that raise awareness about the harmful environmental effects of plastic waste and integrate biodegradable, recyclable materials into their design.
"This love of travel and the sea is in my genes," explained Founder Adrian Solgaard. "Being an explorer at heart means you care about discovering the planet, therefore you must care about its longevity. It's my goal to discover the planet while making solutions ensuring we take care of it long term."
Daypack features drop-proof laptop storage as the bag's strong layer of padding on all four sides will keep any device safe. Daypack's four secret pockets keep smaller possessions, like a phone, wallet or passport, concealed at all times.
Daypack starts at just $64 and is available in two color options: Stealth black and Maldivian blue, providing consumers with the opportunity to match their personal style with ease. To learn more or to place a pre-order, visit http://pr.go2.fund/daypack.
About Solgaard Design
Solgaard Design was launched in 2016, when Lifepack, the Solar Powered and Anti-Theft backpack, took off on Kickstarter - which went on to raise 1.2 million dollars in crowdfunding. In 2017, the company launched The Hustle Collection through Kickstarter as well. In 2017, Solgaard Design also brought HEX watches and the Carry-on Closet Suitcase to life through their website http://www.Solgaard.co.