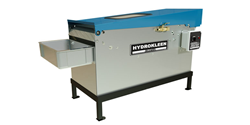 "The CMAFU-2 does a perfect job! In our truck wash, the pit allows for some solids settling prior to the CMAFU-2, and I have gone through one roll of filter paper in 4 months."
SALT LAKE CITY (PRWEB) July 08, 2020
Solids/liquid filtration should be first step in any wastewater treatment system. With inspiration from a common coffee filter, Hydro Engineering, Inc. team of engineers developed a simple, highly efficient, low energy method to remove solids and compliment overall wastewater treatment. Unlike coffee filter batch operation,CMAFU-2 utilizes a continuous media roll, indexed as required based on solids collection. Automatic media indexing that eliminates supervision during filtration process. Simple, reliable and highly effective solids removal.
CMAFU-2 Process: Wastewater continuously flows through a perforated manifold for even distribution over paper filter media in a concave basin. Solids are captured atop media while liquid permeates through media to lower reservoir for transfer to subsequent processing equipment. As solids accumulate filtration separation efficiency increases and liquid permeation rate declines causing basin level to rise. At a basin level set point, media conveyor automatically advances to provide a fresh media surface in basin to repeat process.
Automatic media conveyor advance simultaneously transfers spent media section with accumulated solids to waste collection receptacle. Continuous flow, solids/liquid separation, liquid transfer and waste solids discharge, all fully automatic as a function of process demand.
Effective solids removal significantly benefits performance of any downstream equipment in a wastewater filtration processing system. Hydro Engineering, Inc manufactures a complete suite of filtration system equipment to include: solids filtration, oil / water separation, hydrocarbon removal, emulsified oil recovery, polishing loop filtration, biological treatment and more.