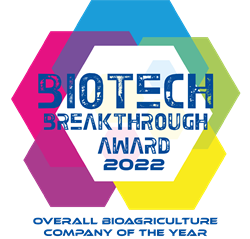 By partnering with Solis, every emerging Agtech startup can access the corporate-like capabilities needed to advance their research to commercialization - Dr. Mary Fernandes, President and Co-Founder, Solis Agrosciences
ST. LOUIS (PRWEB) November 10, 2022
Solis Agrosciences, a company that assists ag biotech startups with R&D needs, today announced it has been selected as "Overall BioAgriculture Company of the Year" in the second annual BioTech Breakthrough Awards program conducted by BioTech Breakthrough, a leading independent market intelligence organization that evaluates and recognizes standout life sciences and biotechnology companies, products, and services around the globe.
Solis is a pioneering plant sciences company that helps scientists accelerate agricultural innovation to solve global food challenges. Solis has launched the world's first Plant Pipeline as a Service (PPaaS™), a proprietary and centralized, end-to-end pipeline for the generation and characterization of transgenic and gene-edited plants. PPaaS™ allows innovators to centralize multiple, siloed and expensive tools and processes into a single, convenient platform. In addition to accessing this all-in-one pipeline with multiple workflow steps enabled, clients may also utilize specific research services in a targeted manner.
Solis enables scientists to move quickly and efficiently from idea to product, accelerating the discovery and commercialization of these important advances. Solis also, uniquely and importantly, allows innovators to retain their intellectual property by using its simple fee-for-service model.
Services offered include construct design, cloning, plant transformation and characterization of the resulting transformants. Custom molecular, cell-based or physiological assay development and execution, metabolite/biochemical characterization, plant propagation and crossing as well as plant disease diagnostic services are also offered. Sequencing and bioinformatic services as well as regulatory and field-testing support are provided in conjunction with partners.
"It's a true honor and validation of our mission to be recognized by BioTech Breakthrough," said Solis Agrosciences President and Co-Founder, Dr. Mary Fernandes. "Since launching this year, Solis has been growing rapidly with a strong client base – both domestic and international. Our mission is to make plant science innovation faster and simpler. Agtech innovators need someone in their corner to help de-risk their ideas and lower their barrier to entry. By partnering with Solis, every emerging Agtech startup can access the corporate-like capabilities needed to advance their research to commercialization. By eliminating the need to stand up individual platforms and teams, innovators can use capital more efficiently and avoid redundancies across the entire ecosystem."
The mission of the annual BioTech Breakthrough Awards program is to conduct the industry's most comprehensive analysis and evaluation of the top companies, solutions, and products in the life sciences and biotechnology industry today. This year's program attracted more than 1,350 nominations from 12 different countries throughout the world.
"New and improved crops are required to meet global challenges in food security and sustainability as well as climate. However, producing novel crops is both time-consuming and expensive – and only a handful of Agtech companies have the necessary resources and access to bring new traits to the market. Outsourced services and CROs are a common aspect of the Biopharma industry. However, this is not true of the Ag industry," said Bryan Vaughn, Managing Director of BioTech Breakthrough Awards. "Solis is the first company to challenge this mindset and offer Agtech innovators world class research capabilities to accelerate product discovery and solve global food challenges. Congratulations on being a true and most-welcome breakthrough in the space – and being our choice for 'Overall BioAgriculture Company of the Year.'"
***
About Solis Agrosciences
Solis Agrosciences is a pioneering plant sciences company offering state-of-the-art technology & research services to Ag innovators. We are located in St. Louis' 39N Innovation District. At Solis, our goal is to rapidly design, create and deliver new biotech plant traits in multiple crops using our proprietary Plant Pipeline as a Service (PPaaS™) for gene-edited and transgenic plant generation & characterization. Our team of experienced scientists, entrepreneurs, and AgTech leaders are here to support your research needs. To learn more, visit http://www.solisagrosciences.com.
About BioTech Breakthrough
Part of Tech Breakthrough, a leading market intelligence and recognition platform for global technology innovation and leadership, the BioTech Breakthrough Awards program is devoted to honoring excellence in life science and biotechnology solutions, services and companies. The BioTech Breakthrough Awards provide public recognition for the achievements of biotechnology companies and products in categories including BioPharma, Genomics, Therapeutics, Food Science and BioAgriculture, and more. For more information visit BioTechBreakthroughawards.com