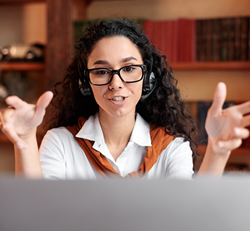 Unless managed properly, too much data can prove costly, Business leaders solve the problem with effective data governance.
HOBOKEN, N.J. (PRWEB) May 13, 2021
Messaging Architects, an eMazzanti Technologies Company and data governance expert, discusses effective data governance as a solution to the problem of too much data in a new article. The informative article first cites the power of big data to inform decisions, drive policy and connect with customers.
The author then reviews the risks associated with surplus data, including storage, personnel, and cybersecurity costs. After urging readers to prioritize quality over quantity, he lists several benefits of effective data governance, including reduced cost and risk and improved productivity and compliance.
"Unless managed properly, too much data can prove costly," stated Greg Smith, Vice President of Services Delivery at Messaging Architects. "Business leaders solve the problem with effective data governance."
Below are a few excerpts from the article, "Solve the Surplus Data Dilemma with Data Governance."
Risks Associated with Surplus Data
"With everything from websites to appliances generating data, organizations gather vast quantities of information each day. As a result, as many as 65 percent of companies report that they deal with a problematic surplus of data. And too much data, if mis-handled, can have significant consequences."
Emphasize Quality Over Quantity
"The statistics prove emphatically that data-driven decisions spur growth, help businesses attract and retain customers and inform powerful strategies. And yes, companies need a sizeable amount of data to inform the process. However, simply collecting more data does not always result in better decisions."
Benefits of Effective Data Governance
"Financial savings – When organizations carefully manage their information assets to remove ROT (redundant, obsolete or trivial data), they realize cost savings related to data storage and eDiscovery."
"Reduced risk of data breach – Multi-layered security and carefully managed access controls mean the right people can access the data and the wrong people cannot."
Start Now to Build Robust Data Governance
Successful data governance takes time and careful planning. Effective business leaders get the right stakeholders involved from the beginning, start simple, and partner with data governance experts for best results.
The consultants at Messaging Architects help them get started by identifying data assets and developing a comprehensive data governance plan to categorize, secure and monitor them.
Have you read?
Microsoft 365 Records Management Delivers Flexible Solution for Managing High-Value Content
Implement Employee Off-Boarding and Email Retention Solutions to Protect Your Organization
About Messaging Architects
Messaging Architects specializes in effectively managing and securing an organization's most precious asset, its information. With over 20 years of information management and technology consulting experience, the Messaging Architects team has provided corporations, educational intuitions, health care facilities and nonprofits with methodologies, procedures, and technology to keep their data organized, compliant and secure.
About eMazzanti Technologies
eMazzanti's team of trained, certified IT experts rapidly deliver increased revenue growth, data security and productivity for clients ranging from law firms to high-end global retailers, expertly providing advanced retail and payment technology, digital marketing services, cloud and mobile solutions, multi-site implementations, 24×7 outsourced network management, remote monitoring and support.
eMazzanti has made the Inc. 5000 list 9X, is a 4X Microsoft Partner of the Year, the #1 ranked NYC area MSP, NJ Business of the Year and 5X WatchGuard Partner of the Year! Contact: 1-866-362-9926, info@emazzanti.net or http://www.emazzanti.net Twitter: @emazzanti Facebook: Facebook.com/emazzantitechnologies.