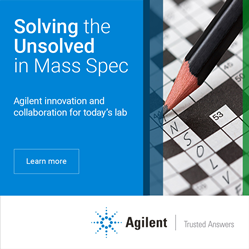 SANTA CLARA, Calif. (PRWEB) November 03, 2020
Agilent Technologies, a global leader in life science, diagnostics, and analytical laboratory technologies, to host "Innovation and Collaboration for Today's Lab," held virtually on LabRoots' robust online platform, November 10 & 11, 2020, providing the opportunity to look at some of the ground-breaking innovations that are moving along the science in this area. The conference will feature the very best-in-class scientists from Agilent, other sections of industry, and academia—all of them experts in their field.
The two-day virtual conference schedule kicks off with life science advances in ion mobility, moving through advanced software workflows, and high throughput solutions. The program also includes exceptional environmental and forensic toxicology applications such as trace analysis of pesticides & mycotoxins in cannabis products, screening for emerging synthetic fentanyl analogues, and detecting perfluoroalkyl substances in water supplies.
"Innovation and Collaboration for Today's Lab", is online and interactive on LabRoots' virtual platform for a fully immersive learning experience. You will not want to miss out on the action!
For more information on the 20+ speakers participating, to view the full agenda, and to register, click here.
About Agilent
Agilent is a global leader in life science, diagnostics, and applied markets. The company provides laboratories worldwide with instruments, services, consumables, applications and expertise, enabling customers to gain the insights they seek. Agilent's expertise and trusted collaboration give them the highest confidence in our solutions. Agilent focuses its expertise on six key markets, where we help our customers achieve their goals – Food, Environmental and Forensics, Pharmaceutical, Diagnostics, Chemical and Energy and lastly Research.
With a team of approximately 16,300 employees globally, our worldwide capabilities enable us to deliver high-quality solutions to our valued customers in 110 countries.
About LabRoots
LabRoots is the leading scientific social networking website, and primary source for scientific trending news and premier educational virtual events and webinars and more. Contributing to the advancement of science through content sharing capabilities, LabRoots is a powerful advocate in amplifying global networks and communities. Founded in 2008, LabRoots emphasizes digital innovation in scientific collaboration and learning. Offering more than articles and webcasts that go beyond the mundane and explore the latest discoveries in the world of science, LabRoots users can stay atop their field by gaining continuing education credits from a wide range of topics through their participation in the webinars and virtual events.