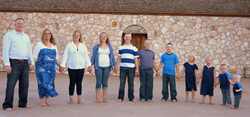 I would definitely recommend his services to anyone in need of a professional and diligent cleaning company.
Houston, Texas (PRWEB) May 30, 2017
A Clean Restroom is Repeat Business.
Keeping a public restroom clean and sanitary is the biggest challenge every business faces, especially in the restaurant industry where customers are much more cleanliness savvy than in the past. Most business owners underestimate how restroom cleanliness affects the bottom line. According to a recent Harris Poll survey, 86% said that a clean restroom is as important as a clean kitchen and 75% said that they wouldn't return to a restaurant that had a dirty bathroom. Similar surveys have also been conducted that revealed 94% of people said they wouldn't patronize with a business who had a dirty restroom, irrespective of the industry.
Mops Cross Contaminate.
Roy & Beth Davis, owners of Full Sweep Cleaning, and parents of 10 active children, and counting, said "With a family our size, we understand the constant challenge of keeping bathrooms clean and sanitary. We've also learned that just because a restroom looks and smells clean, doesn't mean it's sanitary."
Studies have shown that the standard methods of cleaning with mops and rags, merely smear and cross contaminate rather than remove soils, odor causing bacteria, and harmful pathogens (Staphylococcus, Strep, MRSA, E-Coli, Salmonella, Infuenza A/H1N1).
Spray and Vac Systems Hygienically Clean.
Full Sweep Cleaning utilizes a Spray and Vac Cleaning System that is 60 times more effective at removing contaminants than the mop. It is the most effective restroom cleaning tool on the market. This cleaning machine is highly versatile and hygienically cleans any restroom hands free. All natural cleaning solutions are automatically applied to fixtures and floors in a low pressure spray. Grout lines and tight places that mops can't reach are easily flushed out with a high pressure spray. Then the whole bathroom is rinsed with clean water and vacuumed, leaving the floor dry and contaminant free. The result is a hygienically cleaned restroom that not only gives the appearance of cleanliness but smells fresh and clean.
What our Customers are Saying.
"Roy and his team were extremely professional. I was pleased with his work and look forward to building a professional relationship with him. I would definitely recommend his services to anyone in need of a professional and diligent cleaning company," said one recent customer.
For additional information on Full Sweep Cleaning and services offered, visit http://www.fullsweepcleaning.net
About Full Sweep Cleaning:
Roy & Beth started a restaurant cleaning business in 1996. The business has grown into a full range of cleaning services. They believe a clean building starts with a clean restroom.