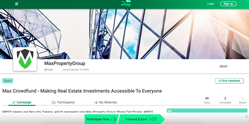 Crowdfunding and blockchain are tools for democratisation of the financial space. By putting commission earnings back into the hands of actual users, we are adding to this process.
ROTTERDAM, Netherlands (PRWEB) January 24, 2020
In a world where computers are increasingly replacing humans to arguable ends, here is a positive instance of technology removing the middle man in the finance world. Max Property Group (MPG) has partnered with 2key network and has listed phases II, III, and IV of its equity round on the 2key network platform, with the campaign going live on Thursday 24th January 2020, and offering commissions to any persons acting as distributors of their product.
The campaign will allow registered users on the 2key platform to invest in the equity round themselves, or to forward the opportunity to others, thereby earning a commission for the introduction if anyone along the chain invests in the round.
Historically, in the distribution of financial products, fund managers, marketing companies and financial institutions have been irremovably involved in transactions, reducing the rate of return to the investors, whilst lining the pockets of corporate fat cats. MPG and 2key are working together to remove the corporate middle man and put commissions in the hands of the masses.
2key technology generates smart links whereby referrals are tracked indefinitely. So, if X sends a link with the product to Y and Y invests, X receives a commission rather than a real estate agent, fund manager or wealth management fat cat. If Y sends the product on to Z, X and Y split the commission, and so on.
The idea is that the reward for distributing high quality investment products reaches the right people, namely anyone, and is not limited to those who make their money from other people's financial transactions.
"Since the conception of the Max Crowdfund platform, democratising property investment has been our goal, and removing middle men such as estate agents is an inevitable part of this. Partnering with 2Key Network takes this idea a step further, allowing others to benefit from the distribution of our equity round," says MPG Managing Director, Mark Lloyd.
MPG is selling 20% of the group for €3,750,000. Phase I of the equity round (€750,000) is already subscribed for over 70%. Phase II, III and IV for a total of €2,250,000 are available via the 2key network campaign.
MPG has over €8M of real estate assets on its books and generates an income of approximately €1M per year at the time of writing.
MPGS tokens are Security Tokens, which represent one Max Property Group Share Certificate. MPGS have the same rights to profit share and voting rights as the normal shares of Max Property Group B.V. (MPG). All investment documents and due diligence documents regarding the equity round can be found on the 2key network platform.
About 2key Network
2key Network is a layer-two scalability solution that enables eased transitioning from the Web 2 to the Web 3. By simply clicking on a Smart Link, a user's browser is turned into a node with a noncustodial wallet.
Smart Links are a business solution that offer multi-step tracking the embedding of economic models into web links. The 2key Network empowers businesses to compensate their fans, followers, clients, customers, etc. for helping them grow their businesses and achieving results.
About Max Property Group
Max Property Group (MPG) is a real estate company based in the Netherlands and established in 2016. Its founders, including Munte Immobilien in Germany, have been active in the real estate industry for several decades. In addition to managing property funds, Max Property Group also engages in property sales, management and rental activities, as well as running a property investment and blockchain academy. MPG has been developing the Max Crowdfund platform since 2018.
Max Crowdfund is a real estate investment platform where real estate investment opportunities can be listed by developers, purchased by investors, and overseen by authorities, on a global scale. The addition of DLT means that every transaction is recorded on the blockchain and can be performed almost instantaneously.
Links
MPG listing on 2Key Network Platform
2key Telegram: https://t.me/twokey_official
MPG Telegram: https://t.me/MPG_Chat
2key Website: https://www.2key.network/
MPG Website: https://maxpropertygroup.com
Max Crowdfund Website: https://maxcrowdfund.com