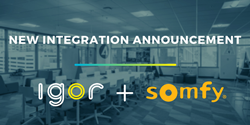 "Somfy is proud to integrate with Igor to create smart, comfortable and energy-efficient buildings."
DAYTON, N.J. (PRWEB) October 28, 2020
Smart-building technology firms Somfy and Igor today announced a partnership to make it easier than ever for architects, designers and building owners to seamlessly connect and control natural and manufactured lighting. Igor's Nexos IoT platform, enables a variety of devices, such as Somfy smart shading, HVAC controls, low voltage lighting, occupancy sensors and more to talk to one another for optimal automation, cost savings and data analytics. The companies will host a webinar on Nov. 5, 2020, to describe in greater detail the use cases, technology requirements and owner-operator benefits of the collaboration.
"Somfy is proud to integrate with Igor to create smart, comfortable and energy-efficient buildings," said Russell Horowitz, National Specification Manager. "Smart shading is a key component to creating innovative spaces that promote wellness and sustainability through natural lighting."
Dwight Stewart, Founder and CTO of Igor, added, "The way we think about physical spaces and our experiences within them is changing. Smart building leaders are accelerating their collaboration to rapidly evolve technology so we can allow owners and designers the flexibility they need to bring humans back together safely and comfortably. Our partnership with Somfy is a perfect example of that collaboration, and we look forward to bringing many new solutions to the marketplace in the coming months and years."
Creating comfortable building environments has never been easier or more important. Studies have shown that building environments have significant impacts on health, wellness and productivity. In fact, a study by the Department of Design and Environmental Analysis at Cornell University showed employees seated within 10 feet of a window reported an 84% decrease in eyestrain, headaches and blurred vision.
Lighting plays a large part in this health and wellness conversation, with major impacts on mood, health and circadian rhythm. A coordinated lighting and shading system promotes circadian entrainment in employees, resulting in improved occupant comfort, health, mood and alertness.
Smarter buildings also create more sustainable and energy-efficient buildings. Effectively managing natural light in a space reduces the electric lighting load and creates a more sustainable environment.
Igor's Nexos platform incorporates hardware, software and cloud analytics to create smart, holistic building control. Igor's ability to integrate with HVAC systems brings together some of the most impactful building systems for control as simple as it is powerful. Connecting lighting, smart shading and HVAC allows for more energy-efficient buildings that adjust to the people inside.
Automated shading allows buildings to rely on natural light, cutting back on cooling and lighting costs. For instance, shades on a particularly sunny part of a building can be scheduled to lower during the hottest part of the day, triggering lighting to brighten and decreasing the pressure put on HVAC systems.
Igor's open API and real-time data also invites data analytics to become part of the smart building conversation. It's now easy to detect which spaces and devices are calling for the most energy use and to make adjustments based on that analysis. The system can even be configured to make those adjustments in real-time. This allows smart buildings to be adaptive, not just to the natural environment, but also to the occupants inside.
"Somfy and Igor are working closely together to create better experiences for our customers," said Brittany Mier y Terán, Partnerships and Custom Integration Channel Manager. "We're excited to further enhance the natural and artificial lighting experience in buildings."
Learn more about how Somfy and Igor work together to create powerful smart buildings in the upcoming webinar on November 5th at 12pm CT/ 1pm EST. Click here to learn more and register.
About Somfy Systems, Inc.
Somfy has been improving everyday life for more than 270 million people by designing and manufacturing intelligent motorization solutions for interior window coverings and exterior solar protections. Somfy innovates to automate and connect shades, blinds, draperies, awnings, rolling shutters, exterior screens & pergolas for commercial and residential buildings in 58 countries across the globe. With 170+ million motors produced over the last half-century, Somfy is committed to creating reliable and sustainable solutions that promote the best way of living and well-being for all. For more information, visit http://www.somfysystems.com
About Igor
For more than seven years, Igor has been an innovation leader in IoT smart building technology. Igor's flagship product, Nexos, is a PoE-based IoT smart building platform that incorporates hardware, software and cloud analytics to enable smart and secure buildings. Combined with an open API and real-time data, Nexos is a forward-looking technology that seamlessly integrates advanced lighting controls with building systems, low-voltage devices, business applications and more. Now installed in more than 30 countries, Nexos delivers on the global market's readiness to enter the IoT world. For more information, visit http://www.igor-tech.com.