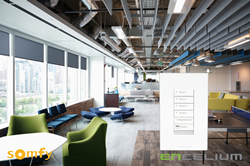 Somfy is proud to partner with OSRAM to simplify lighting management.
DAYTON, N.J. (PRWEB) March 04, 2020
Somfy Systems, Inc., the world's largest manufacturer of tubular motors for interior window coverings and exterior solar protections, is proud to partner with Osram, a leading global high-tech company with a diverse array of products including connected lighting solutions. The partnership between Osram and Somfy allows natural and artificial light to work better together in building environments.
Osram's Encelium® networked lighting management system and Somfy's automated shading solutions work together to create a more seamless user experience for light management. The combination of Osram Encelium and Somfy Digital Network® (SDN) creates a centralized interface for facility managers and streamlines the light management process. This unified control experience makes it simple to maximize the combination of natural and artificial light.
"Somfy is proud to partner with Osram to simplify lighting management," said David Parrett, Lighting and Partnerships Business Development Manager for Somfy North America. "Introducing one system for both automated shading and lighting management creates smarter buildings."
In the past, automated shading and lighting management systems were deployed separately. This led to a confusing user experience, hindered efficiency and was difficult to maintain. Lighting and shading required separate programming, separate maintenance and even separate wall stations. With the Somfy and Osram partnership, these two essential building functions are now joined together in one system.
"Controlling natural and artificial lighting in one environment enhances occupant comfort, streamlines building management and optimizes energy performance," said Osram Product Manager Amit Parpani.
Now, lighting and shades can both be controlled from one unified wall station or touchscreen. This centralized control is easy to install and simple to use. A single dashboard allows users to manage and configure their lights and shades for seamless scheduling. Now building managers can schedule around office hours, holiday schedules, and even astronomical events like sunrise and sunset. Consolidated control saves time for facility managers and improves energy efficiency for projects of all sizes.
"We're excited our automated shades can now integrate simply with artificial lighting," said Parrett. "Combining these two lighting sources allows building managers to improve occupant comfort and save energy."
Learn more about Somfy-powered motorized solutions at http://www.somfysystems.com/commercial. To learn more about the Encelium Light Management System from OSRAM, please visit http://www.encelium.com.
###
About Somfy Systems, Inc.
Somfy, the global leader in the manufacturing of strong, quiet motors with electronic and app controls for both interior window coverings and exterior solar protections, has North American headquarters located in Dayton, NJ. Over 270 million users worldwide enjoy the more than 170 million motors produced by Somfy. During the past 50 years, Somfy engineers have designed products for both commercial and residential markets to motorize window coverings such as interior shades, wood blinds, draperies, awnings, rolling shutters, exterior solar screens, and projection screens. Somfy motorization systems are easily integrated with security, HVAC and lighting systems providing total home or building automation. For more information, visit http://www.somfysystems.com
About OSRAM
OSRAM, based in Munich, is a leading global high-tech company with a history dating back more than 110 years. Primarily focused on semiconductor -based technologies, our products are used in highly diverse applications ranging from virtual reality to autonomous driving and from smartphones to smart and connected lighting solutions in buildings and cities. OSRAM uses the endless possibilities of light to improve the quality of life for individuals and communities. OSRAM's innovations enable people all over the world not only to see better, but also to communicate, travel, work and live better. OSRAM has approximately 23,500 employees worldwide as of end of fiscal 2019 (September 30) and generated revenue of about 3.5 billion euros from continuing activities. The company is listed on the stock exchanges in Frankfurt and Munich (ISIN: DE000LED4000; WKN: LED 400; trading symbol: OSR). Additional information can be found at http://www.osram.com