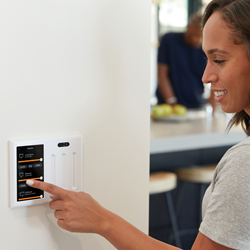 We're excited to partner with Brilliant to offer easy and affordable new ways for Somfy customers to control their smart homes and properties.
DAYTON, N.J. (PRWEB) June 22, 2021
Somfy, the world's largest manufacturer of tubular motors for interior window coverings and exterior solar protections, and Brilliant, a leading smart home control, lighting, and home automation company, announce a new integration that makes it easier and more affordable than ever to control motorized shade experiences using a whole-home control system. Through Somfy's new TaHoma Gateway, Somfy interior shades, blinds and draperies, and exterior screens, awnings and pergolas can now be controlled and automated using Brilliant touchscreen control panels as well as the Brilliant mobile app.
Brilliant is the first affordable in-wall control system that simplifies the way that people interact with their smart homes and unifies control of a wide variety of popular smart home devices. By simply replacing a light switch with a Brilliant voice-enabled touchscreen control panel, homeowners, apartment residents, families, and guests will be able to easily manage Somfy shades as well as lighting, thermostats, locks, cameras, music, intercom experiences, and more. Additionally, multifamily property managers will be able to automate smart apartment experiences across their residential buildings to improve energy efficiency, enhance privacy and security and offer interactive smart apartment demos and tours.
"We're excited to partner with Brilliant to offer easy and affordable new ways for Somfy customers to control their smart homes and properties," said Alex Keichinger, Product Marketing for Connected Solutions at Somfy. "The Brilliant System is easy to use and install, and makes it possible for so many more people to start enjoying all the benefits of living in a fully integrated smart home."
"At Brilliant, our mission is to make smart home living accessible, affordable, and effortless for as many people as possible," said Aaron Emigh, Co-Founder, and CEO of Brilliant. "This new integration with Somfy opens up exciting new opportunities for our customers to control natural lighting and privacy, improve the energy efficiency of their homes, and further unify their smart home experience."
Key features and benefits:

Easy-to-Use Control System: Brilliant improves smart home accessibility/usability by offering a variety of convenient ways to control and automate Somfy motorized shades and blinds, and other smart home devices. This includes intuitive touchscreen controls, touch sliders, built-in Alexa voice commands, home automation scenes, and a mobile app.
Natural Lighting and Privacy Control: Check which shades are open and closed from any Brilliant Smart Home Control panel (for Somfy models that support shade level/status) and control them all on-demand or through schedules and scenes.
Increased Energy Efficiency: Schedule shades to open during the warmest times of the day during winter and close during the hottest times of the day during summer to save on heating/cooling costs.
Home Automation Scenes: Control groups of shades together or create custom scenes to control multiple smart home products simultaneously. Example scenes include a "Leave Home" or "Goodnight" scene that could close window shades, lock doors, turn off lights, and adjust the thermostat, or a "Good Morning" scene that could automatically open your bedroom blinds at sunrise to wake up with the sun.
Whole Home App Control: Use Brilliant's all-in-one mobile app for iOS and Android to control Somfy window shades and all your other smart home devices from anywhere.
To learn more about the Brilliant Smart Home System, visit https://www.brilliant.tech. To learn more about Somfy smart shading solutions, visit us at http://www.somfysystems.com
About Somfy Systems, Inc.
Somfy has been improving everyday life for more than 270 million people by designing and manufacturing intelligent motorization solutions for interior window coverings and exterior solar protections. Somfy innovates to automate and connect shades, blinds, draperies, awnings, rolling shutters, exterior screens & pergolas for commercial and residential buildings in 58 countries across the globe. With 170+ million motors produced over the last half-century, Somfy is committed to creating reliable and sustainable solutions that promote the best way of living and well-being for all. For more information, visit http://www.somfysystems.com
About Brilliant
Brilliant, the leading smart home control and lighting company, creates technology that unifies the home experiences through simple and thoughtful interaction. Brilliant has been recognized as the winner of the CES Innovation Award, the CTA TechHome Mark of Excellence, the IoT Breakthrough Award, and the CEDIA BEST Award. Brilliant is based in San Mateo, California, and is funded by August Capital, Miramar Ventures, The Box Group, and other prominent investors. For more information, visit: https://www.brilliant.tech