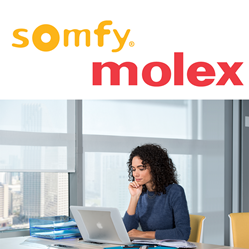 "Simplifying automated shading in buildings improves occupants' experience with natural lighting and increases productivity."
DAYTON, N.J. (PRWEB) July 07, 2020
Somfy, the world's largest manufacturer of tubular motors for interior window coverings and exterior solar protections, is proud to be a leading provider in the Molex CoreSync EcoSystem Alliance. This Alliance is comprised of companies working together to expand network connected services in both commercial buildings and everyday life. Somfy's automated shading solutions help commercial spaces improve energy efficiency and enhance occupant comfort.
"Somfy is excited to work together with Molex to improve building function," said Ty Saville, Somfy North America's VP of Project Business and New Housing. "Simplifying automated shading in buildings improves occupants' experience with natural lighting and increases productivity."
Molex's CoreSync EcoSystem Alliance is developing seamless integration options for commercial spaces that deliver improved efficiency, real-time data and monitoring for building owners, managers, and occupants. As a core member of the Alliance, Somfy has embedded CoreSync technology into our Power over Ethernet (PoE) Gateways.
"Building owners and managers are looking for better ways to create smart, comfortable environments," said Jon Norton, Global General Manager at Molex Connected Enterprise Solutions. "Our alliance with Somfy makes it easy to incorporate shading into dynamically orchestrated projects of all sizes."
Somfy's PoE Gateway utilizes Power over Ethernet technology to power and control motorized shading solutions in the built environment. PoE technology keeps infrastructure costs low and allows for ease of movement, making it a beneficial technology component for commercial projects. Featuring seamless integration with Molex, Somfy-powered shading solutions create smarter buildings.
"Our membership in the CoreSync EcoSystem Alliance is just the beginning of Somfy's path with Molex," said Saville.
Learn more about the CoreSync by Molex by visiting https://www.molexces.com/solutions-overview/smart-buildings. To learn more about Somfy commercial solutions, visit us at http://www.somfysystems.com/commercial
About Somfy Systems, Inc.
Somfy, the global leader in the manufacturing of strong, quiet motors with electronic and app controls for both interior window coverings and exterior solar protections, has North American headquarters located in Dayton, NJ. Over 270 million users worldwide enjoy the more than 170 million motors produced by Somfy. During the past 50 years, Somfy engineers have designed products for both commercial and residential markets to motorize window coverings such as interior shades, wood blinds, draperies, awnings, rolling shutters, exterior solar screens, and projection screens. Somfy motorization systems are easily integrated with security, HVAC and lighting systems providing total home or building automation. For more information, visit http://www.somfysystems.com
About Molex
Molex brings together innovation and technology to deliver electronic solutions to customers worldwide. With a presence in more than 40 countries, Molex offers a full suite of solutions and services for many markets, including data communications, consumer electronics, industrial, medical, automotive and commercial vehicles. For more information visit http://www.molex.com