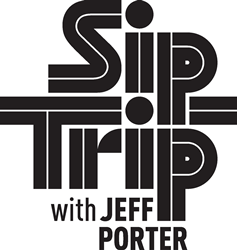 "SOMM TV is the leader in producing and distributing great content for wine lovers. There's no better home for the Sip Trip series, my passion project for the past 3 years." - Jeff Porter, Sip Trip host and producer
NEW YORK (PRWEB) September 17, 2020
'Sip Trip, Italy' (http://www.siptripitaly.com), the video road trip through Italy's best wineries and wine regions, will debut on SOMM TV on October 1st. Sip Trip host and producer, Jeff Porter, and Jason Wise, SOMM TV producer and founder, announced the partnership today. "We love fun and informative video content about wine, and we love Jeff," said Jason. "Like a glass of Chianti Classico and Bistecca alla Fiorentina, this is a perfect pairing." Jeff added, "SOMM TV is the leader in producing and distributing great content for wine lovers. There's no better home for the Sip Trip series, my passion project for the past 3 years."
In total, there are 14 episodes of 'Sip Trip, Italy,' averaging approximately 20 minutes each; they will be released weekly on SOMM TV. Episodes will be released with Closed Caption and, in the coming weeks, will be translated into Spanish, Portuguese and Italian to serve the global SOMM TV audience.
The first three episodes are:
1. 'Bubbles. The world is a lot bubblier than just Champagne. The Sip Trip crew goes from Milan to Venice discovering just what makes Italian bubbles pop.'
2. 'Criss x Cross: Orvieto to Rome to San Benedetto del Tronto to Naples all in 36 hours! Sounds exhausting BUT when Jeff is on a hunt for great food and wine, time is relative.'
3. 'No Borders: Jeff gets a history lesson that spans over a thousand years and learns that vines know no borders. Though governments may draw boundaries, the people, the vines, and the food just don't care.'
Sip Trip was shot entirely on location in Italy. Jeff and two Somm friends (different friends on four different trips, covering more than 10,000 miles in total) went to over 40 wineries and wine regions from Alto Adige to Sicily, from sipping Trentodoc and snowshoeing in the Dolomites to night hiking up Mount Etna followed by bottles of Etna Rosso. "When reviewing the Sip Trip episodes, we immediately recognized the connections Jeff made with the winemakers and his talents as a storyteller," said Jason. "We know our audience and we believe they will connect with the show, experiencing Italy through Jeff's wine knowledge, sense of adventure and infectious personality."
"The concept for Sip Trip is simple: I travel with Sommelier friends to Italy's greatest wineries and wine regions, drink great wine, interview interesting people and explore the culture and history of Italy. We're seeking to better understand a people through what they drink; Sip Trip truly is Culture through Beverage," explains Jeff. The tone of Sip Trip is fun and informative while the format is fast-paced and experiential. Jeff and friends tell compelling stories of great wines, estates and regions in their historical and cultural context.
"Americans love Italy and Italian wine but don't necessarily have the opportunity to explore the places Jeff visited and get to know the people he met," says Sip Trip co-producer, Gino Colangelo. "Sip Trip will allow SOMM TV viewers to vicariously experience these beautiful places and leading Italian wine personalities." Added co-producer Marina Nedic, "Jeff is the perfect host. He knows wine, he knows Italy and he can talk to wine lovers in terms they can relate to."
About SOMM TV http://www.sommtv.com
SOMM TV is the first SVOD (Subscription Video on Demand) streaming platform and full podcast network in the wine, food, and travel space with exclusive new shows, films, and educational content created from the ground up by the team that made the award-winning SOMM documentary series. SOMM TV is available on every device and smart TV worldwide through our custom app and website. Our podcasts can be found on all major platforms including iTunes and Spotify.
Participating Sip Trip Wineries and Wine Marketing Organizations
Allegrini, Argiano, Argiolas, Brancaia, Cà del Bosco, Cantina Santadi, Castello di Monsanto, Ciù Ciù, Col d'Orcia, Col Vetoraz, Colpetrone, Consorzio Vino Chianti Classico, Consorzio del Vino Brunello di Montalcino, Consorzio Tutela Lugana D.O.C., Consorzio dell'Asti D.O.C.G., Consorzio Barbera d'Asti e Vini del Monferrato, Famiglia Cotarella, Fontanafredda, Gagliole, Giovanni Rosso, Graci, Jermann, Masi, Mastroberardino, Michele Chiarlo, Mionetto, Pertinace, Pieropan, Pio Cesare, Planeta, Primosic, Produttori di Manduria, Renato Ratti, Rocca di Frassinello, Roeno, Sella e Mosca, Tasca d'Almerita, Tenuta Sant'Antonio, Tommasi, Tornatore, Torre a Cona, Trento D.O.C., Umani Ronchi, Zenato.
About Jeff Porter
Originally from Texas, Jeff's passion for wine started while at the University of Texas at Austin. He began his career at Central Market in Austin, Texas. After graduating, Jeff moved to California where he worked as a salesperson for a wholesaler in the Bay Area. His sommelier career began in Napa Valley working at Tra Vigne Ristorante in St. Helena, California. He joined the Bastianich Hospitality Group in 2009 at Osteria Mozza. In 2011 he moved to New York to become the wine director for Del Posto, and in 2014, Jeff became the Beverage Operations Director of the B&B Hospitality Group, overseeing the beverage programs for Babbo, Del Posto, Esca, Lupa, Otto, Babbo Pizzeria & Enoteca in Boston. Most recently, Jeff has joined forces with famed pit master Billy Durney to introduce an all-natural wine program to the Hometown BBQ restaurants in Brooklyn and Miami as well as the newly minted New York Times 1-star restaurant, Red Hook Tavern.