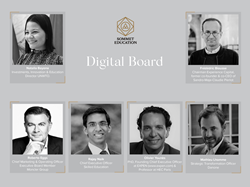 LAUSANNE, Switzerland (PRWEB) March 16, 2021
Today two new members are joining Sommet Education Digital board to accelerate digitalization impact on students' curriculums.
Natalia Bayona, Investments, Innovation & Education Director UNWTO.
Natalia Bayona who has just been recognized at ITB Berlin, one of the world's leading travel trade show in Tourism, as a one of the global empowered women leading the change in Tourism will bring her vision on how youth empowerment and innovation can regenerate worldwide tourism today.
For Natalia Bayona, "Digital education is the key driver to scale up the way people are educated in the tourism sector. Today, we have the responsibility to give opportunities to youth and accelerate their tourism career path through the use of technology. Our aim in UNWTO is to open doors by connecting the academia with startups, governments, investors and corporates, to consolidate a high impact tourism innovation ecosystem".
Frédéric Biousse, Chairman Experience Capital, former co-founder & co-CEO of Sandro-Maje-Claudie Pierlot. After 20 years of experience in retail and luxury, the entrepreneur has co-created Les Domaines de Fontenille, a collection of refined hotels all over Europe. He will be an inspiration to the student-centric approach of the hospitality education group.
Sommet Education has been taking the lead on the future of hospitality education implementing a sustainable integration of digital learning solutions and new technologies in its institution's curriculums with the recent development of hyflex bachelor's degrees based on a full practical arts semester developed on-line and the integration of artificial intelligence to support student learning.
About Sommet Digital Board
The aim of the Digital Board is to support Sommet Education with digital expertise and propose inspiring ideas, services, products and solutions leveraging on digitalization to be implemented in campuses and courses and further integrate digitalization in the learning experiences of the students.
The board is based on the member expertise and their worldwide recognition in their field. The current board members are Roberto Eggs, Chief Marketing and Operating Officer, Executive Board Member at Moncler, Mathieu Lhomme, Strategic Transformation Officer at Danone, Rajay Naik, CEO of Skilled Education, as well as Olivier Younès, PhD, Founding CEO of EXPEN (http://www.expen.com) & Professor at HEC Paris.
About Sommet Education
Sommet Education is the world's leader in hospitality management education. It has a network of three prestigious institutions: hospitality business schools Glion Institute of Higher Education and Les Roches, together with culinary and pastry arts school École Ducasse.
These institutions offer undergraduate, graduate and technical training programs to 6,000 students from more than 100 nations, with teaching offered on-campus and through state-of-the-art remote learning platforms. Between them, the schools have a network of 28,000 influential alumni in hospitality and beyond.
Sommet Education is the only education group with two Top 4 globally ranked institutions for hospitality education and by employer reputation (QS World University Rankings by Subject 2021).
http://www.sommet-education.com
PRESS CONTACT
Anouck Weiss - VP Communication Sommet Education Group
E: media@sommet-education.com T: + 41 (0)21 989 26 63